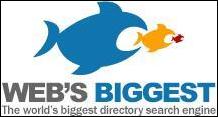 Web's Biggest's popularity worldwide, its high margin business model, high growth rate and its strong management team were factors that sealed our decision to move forward.
(PRWEB) June 1, 2005
EdgeTech Services Inc. (http://www.EdgeTechservices.com; stock symbol OTCBB: EDGH) has signed a definitive agreement to acquire Internet search engine Web's Biggest Inc. EdgeTech has also setup a share buyback plan to purchase up to 20 Million common shares.
EdgeTech will acquire Web's Biggest using Convertible Preferred Shares. As part of the agreement the company will receive a cash injection of $250,000 from Web's Biggest.
Web's Biggest (http://www.websbiggest.com) had net income of more than $1.5 million for the twelve months ending March 2005. Profits have grown more than 50% compared to the previous year with most revenue automatically recurring. Net margins are also more than 50%.
The high profit margins are due to its highly automated and scaleable IT infrastructure. This allows the company to grow rapidly without needing significant additional capital.
Web's Biggest is the world's largest "wiki" based search engine. Its Editors Choice directory is localized for 230 countries in 70 different languages.
Web's Biggest has licensed the entire Whois database of more than 40 million domain names, enabling them to search almost every website in the world. Other search engines rely on hyperlinks and manual submissions to find websites. In a recent study done by the company, other search engines missed a third to more than half the Web sites in Web's Biggest search results.
"This is a dramatic change in our company's direction that firmly places EdgeTech in one of the hottest sectors in Information Technology. The potential value of this transaction is tremendous for our shareholders," says Tae Ho Kim, CEO of EdgeTech.
"Web's Biggest's popularity worldwide, its high margin business model, high growth rate and its strong management team were factors that sealed our decision to move forward."
"This deal will make EdgeTech highly profitable. Entering the internet search and directory space with Web's Biggest proprietary technology will provide our shareholders with dramatic upside."
This will be an all-stock transaction result in a change in control. Additional details are available in EdgeTech's 8K filing on Edgar. EdgeTech will file Web's Biggest 8KA financial statement within 71 days.
EdgeTech plans to replace three directors with two new ones. Xavier Roy and Adam Radly from Web's Biggest will join the company's management.
Xavier Roy will be Chairman and CEO of EdgeTech. Roy has 20 years experience managing technology and consulting companies. He has had leading roles in Litton industries, Thomson Group, Cap Gemini Ernst & Young, Cinebase, Veon, and Etensity where he developed and implemented new strategies that resulted in a growth of sales and profits of more than 100%.
Adam Radly was founder and CEO of publicly traded ISIS. He helped raise almost A$100 million for the company. The company then merged with AAV (http://www.aav.com.au) to form Australia's largest media services company. Radly is also cofounder of XSIQ Pty Ltd (http://www.xsiq.com), a leading educational software company.
About EdgeTech
EdgeTech's primary business is IT consulting covering the following areas: IT Security, Biometrics, Business Solutions, Systems Engineering, Software Development and Project management. EdgeTech is a Business Partner to Microsoft, IBM, Symantec, Counterpane and many others. EdgeTech's clients include major government and private sector clients in Canada and the United States.
Press Contact:
Adam Radly, adam@websbiggest.com, Phone (310) 857-6666
Tae Ho Kim, tkim@ EdgeTechservices.com, Phone (416) 441-4046
# # #