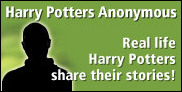 We stumbled across a real Harry Potter, who is an author, and that sparked our imagination
New York, NY (PRWEB) June 3, 2005
The world's largest online marketplace for books, Abebooks.com has discovered hundreds of Harry Potters in North America who were leading normal lives until JK Rowling's fantasy books became worldwide best-sellers. Now these people can reveal their true stories and have the chance to win USD $1000 and another $1000 for the library, literacy charity or school of their choice.
To celebrate the publication of Harry Potter and the Half-Blood Prince on July 16, Abebooks.com is inviting real Harry Potters to step into the limelight and reveal the highs and lows of being an ordinary person with the same name as the world's most famous wizard. Any real-life Harry Potters, who qualify to enter and are profiled on Abebooks.com, stand a chance of winning this unique contest.
Abebooks.com has dedicated an entire section to these remarkable stories of coincidence and entries already include:
A Latin teacher from Michigan, who wears Harry Potter spectacles,
A retired seaman from Florida, who is the third of four Harry Potters in his family,
A children's video-maker from Texas, who has written a book called Tory: The Dust Devil,
And a lawyer from London who uses his famous name to his advantage in court and even has a hand-written letter from JK Rowling.
The profiles and contest entry details can be found at http://www.abebooks.com/harrypotter. Abebooks.com will also reward procrastinating Muggles by offering 1000 dramatically discounted copies of Harry Potter and the Half-Blood Prince at what is anticipated to be the cheapest price in North America - $12.99, a full $5 less than the closest competitor and the official list price. Orders can be made from July 11 for delivery on July 16 – the release date for The Half-Blood Prince.
"We stumbled across a real Harry Potter, who is an author, and that sparked our imagination," said Lisa Stevens, VP of marketing at Abebooks.com. "We realized there are hundreds more sharing their name with the world's most famous fictional person and we're offering them a chance to tell their story. It's a unique way to examine the impact of the Harry Potter phenomenon as excitement builds around the launch of the new book. If there's a Harry Potter in your life, we want to hear from him."
Research revealed many Harry Potters are publicly listed in US telephone directories with more believed to be located in Canada, UK, Australia and New Zealand. Aside from the Harrys featured on the site, Abebooks discovered a college professor, an accountant, a farmer and another lawyer, who all shared the famous name.
About Abebooks:
Abebooks is the world's largest online marketplace for books, with more than 70 million new, second-hand, rare, and out-of-print titles listed for sale by more than 13,000 independent booksellers from around the world. Abebooks has millions of registered customers who collectively purchase more than 20,000 books a day from its five global websites (Abebooks.com, Abebooks.co.uk, Abebooks.de, Abebooks.fr and Iberlibro.com). A true internet success story, Abebooks.com has been selling books online since 1996, and is a private company based in Victoria, BC Canada, with offices in Düsseldorf, Germany.
Contact:
Dustin Rideout
250-412-3238
drideout@abebooks.com
###