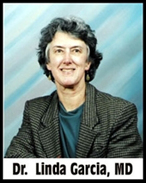 (PRWEB) June 6, 2005
Dr. Linda Garcia, an Alaska internist specializing in the early recognition and treatment of alcoholics, was highlighted in the June 13, 2005 issue of Newsweek Magazine for her work using a multi-faceted, therapeutic approach to treat problem drinking. Her program employs the medication topiramate (Topamax) and a combination of nutritional supplements including the herb kudzu and specific amino acids known to affect alcohol craving.
It also incorporates self-administered hypnotherapy recordings and simple modifications to diet and exercise. Garcia currently follows approximately two dozen patients and counsels other medical professionals in delivering the therapy.
"This program is highly effective and very customizable," says Garcia, who has closely followed the research of Dr. Bankole Johnson, MD, PhD, whose groundbreaking clinical trial involving topiramate was published in the medical journal Lancet in May of 2002 and is recognized as a leader in the field of addiction medicine.
Garcia serves as medical director for the "My Way Out" program (http://www.mywayout.org) and wrote the foreword to a book of the same name describing a system using topiramate and other therapeutic strategies to curb the craving to drink. She says her patients uniformly report their craving for alcohol subsides quickly and painlessly when following the plan.
"It's a craving that cannot be controlled by intellect," she says. "We have a general sense about what's happening in the brain, but we don't know exactly how all the components in the program work. However, we do know they are triggered rather quickly and in synergy."
Topiramate, an anti-seizure medication, is fundamental to the program and has been prescribed "off label" by physicians with increasing frequency to treat a number of addictions, including binge eating, smoking, cocaine abuse—even gambling. It appears to affect the reward signaling center in the brain and blunt an alcoholic's desire to drink. However, Garcia and many of the patients she treats believes the effectiveness of the program is due to more than medication.
Roberta Jewell is author of "My Way Out" and concurs. Her book helped set the stage for the new approach to treatment. A twenty-year obsession with alcohol drove her to create a program to rid herself of her drinking problem. In it, she states the "single pill approach" provided only short term results and other strategies failed her, as well.
"I'd tried everything," says Jewell, "from counseling to medication to sheer will power, but nothing worked." After searching two decades for a solution, she combined a number of different elements into a program and finally achieved success. "When you integrate the behavioral, the pharmacological, the nutritional—when you tackle it from a multi-directional approach, that's when you get a really powerful system that can turn your life around," she says. "I've seen this program work over and over again—even for people who have opted out of taking the medicine, although we do not necessarily recommend that."
Garcia agrees that times have changed when it comes to treating alcohol dependent individuals. "As physicians, we finally have an opportunity to provide an effective, integrative approach, just like we do for patients who suffer with other diseases like diabetes or hypertension. And this therapy can be administered without the emotional stigma and shame that often accompanies addictive behavior."
"Many people," says Garcia, "will benefit from this approach."
The Newsweek story is available at: http://www.msnbc.msn.com/id/8100267/site/newsweek/.
For more information about the program visit http://www.mywayout.org. To learn more about Dr. Linda Garcia, MD, visit the publisher's website at http://www.capalo.com.
Contact:
Kellie Hyder
info@capalo.com
907-322-7105
# # #