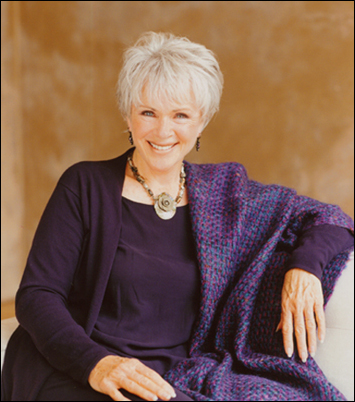 Loving What Is: The Byron Katie Hour
Phoenix, AZ (PRWEB) June 6, 2005
Byron Katie, founder of the groundbreaking self-inquiry process, "The Work of Byron Katie," joins the VoiceAmerica™ Channel as the host of a new weekly talk show, "Loving What Is: The Byron Katie Hour." Katie's show premiers June 6 at noon Pacific (3 pm Eastern) with an encore broadcast at midnight Pacific (3 am Eastern). The VoiceAmerica™ Channel (http://www.voice.voiceamerica.com/) offers the latest topics and conversations live and on demand via the internet.
"Loving What Is: The Byron Katie Hour" is based on "The Work" (http://www.thework.com/), Katie's technique for achieving clarity and happiness in life and relationships. Each week, Katie will speak live with a member of the audience, facilitating the revolutionary process that has helped hundreds of thousands of people worldwide.
"I am excited to extend "The Work" in this format to VoiceAmerica's audience," says Katie. "Tune in and watch your life change in a way you never dreamed possible."
To experience "The Work." listeners can log on at http://www.voice.voiceamerica.com/ and call toll free at 888-335-5204. Past episodes will be available in Katie's content library and On Demand.
Byron Kathleen Mitchell (called Katie) was severely depressed for ten years in her mid-thirties to forties until her life-changing self-realization: When we believe our thoughts we suffer, but when we question them, we don't suffer. Katie became filled with love for everything life brings and developed The Work to help others experience this transformation. Since 1986, Katie has introduced The Work in venues in over thirty countries. Since 1998, she has directed The School for The Work, a nine-day curriculum offered several times a year in the United States and in Europe. Katie also hosts an annual New Year's Mental Cleanse, a five-day program of continuous inquiry, and weekend intensives in major cities worldwide.
TIME magazine calls Katie "a visionary for the new millennium." The Times of London describes The Work as "riveting." Eckhart Tolle extols it "a great blessing for the planet." Katie's bestselling book "Loving What Is" is translated into fifteen languages. Her new book, "I Need Your Love - Is That True?" was released in April 2005. Her website is http://www.thework.com/
SurfNet Media Group (OTCBB: SFNM) (http://www.surfnetmedia.com/), founded in 1999, is an on-demand media company-- the leading producer and distributor of online, talk radio content, streaming over 100 programs weekly to targeted audiences on its VoiceAmerica™ Network (http://www.voiceamerica.com/). SurfNet is pioneering a next generation distribution model based on its patented Metaphor® iportal, creating innovative "community centers" that transform virtually any website into a broadcast portal for syndicating online content.
Contact:
Denise Dion
Director, Marketing and Communications
2801 South Fair Lane
Tempe, Arizona 85287
602-426-7200
# # #