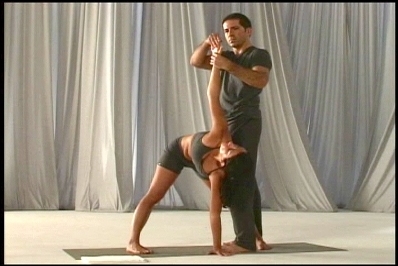 (PRWEB) June 7, 2005
Need to relax, learn to build a strong body and get rid of stress? An easy to enter competition could have you winging your way to Los Angeles for a three-day de-stress vacation this fall. Imagine relaxing at a boutique hotel and attending one-on–one power yoga classes with Hollywood's most sought-after yoga trainer, Mark Blanchard.
Trainer to the stars, Mark has worked with Jennifer Lopez, Drew Barrymore and other stars. "Mark helped me find the mystical connection between body, mind and soul," says J.Lo. "Power yoga is Ashtanga turned up a couple of notches," says Mark. "A power yoga program should help you feel more powerful, confident and balanced, yet also simultaneously feel compassionate, fluid, gentle and kind."
And Mark is obviously doing something right, as his classes are packed. And if you can't get to Hollywood to take the class in person, the next best thing is to buy his set of three yoga exercise videos or dvds and do the class right at home.
"With three kids, I never have time to go to a class or to the gym, so with the yoga exercise videos I get to do it at home and when my kids want to jump in with me they can," says one young mother.
"Mark's low impact approach is not only able to work on the strength and endurance of core muscles of the body, but also the necessary flexibility" says Dr. Neal Elattrache, an orthopaedic surgeon who specializes in sports medicine at the Kerlan Jobe Clinic in Los Angeles. "Power Yoga addresses the critical aspects we're looking for with regards to balance, endurance, core strengthening and overall flexibility."
Your one-on –one classes with Mark will take place in his studio where you can also get a Swedish, Thai, shiatsu, acupressure, or deep tissue massage by one of the talented specialists. You will be fully focused on your physique, breath, and personal power for a full body and mind experience.
Life is filled with pressures. Some are gentle nudges that throw us temporarily off balance, others feel like they knock us flat on our backs. Pressures-- especially those "have to's"--create stress. Learning to manage stress can make a strong positive contribution to success and personal well-being.
Enter the power yoga LA getaway and put yourself in line to win this trip to Los Angeles with a personal training routine with Mark Blanchard. You'll return home recharged and empowered to deal with your every day stresses.
###