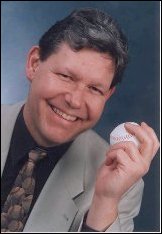 Hoboken NJ (PRWEB) June 13, 2005
Alexander Joy Cartwright, IV, CEO of Mr. Baseball LLC will present the City of Hoboken a birthday present this Friday the 17th of June at Hoboken's City Hall. Along with his partner Darrel Smith, Alex will present a stainless steel plaque to the city
"Baseball is more than a sport in this country," Mr. Cartwright said. "It's a designation of our freedom and a declaration of the bond that makes our country great. Elysian Fields represents the place in time where the seed of this great game was planted only to produce a remarkable harvest many years later.
Mr. Cartwright will be available for comments after the presentation which should take place around 1:30 pm. For more information please contact Geri Fallow, Arts Director for the City of Hoboken. Geri's phone number is (201) 420-2207.
Hoboken, New Jersey celebrates its 150th Birthday this year and in so doing is having a birthday party all year long but especially June 18-19th. During these days a vintage baseball tournament will take place in Hoboken to honor the Grand Old Game.
The birthday plaque was commissioned by Mr. Baseball LLC and manufactured by a Seattle, Washington laser imaging company. Mr. Cartwright described the process of creating this plaque as follows: "Using 16-gauge 304 stainless steel, we applied a chemical to the surface that allows the laser to 'stick' to the metal. Then we laser-engrave it. Everywhere the laser touches turns black. Once the process is done, the chemical is washed off and the result is permanent graphite grey laser marks on the stainless steel. The overall size is 26 7/16" wide and 21" tall."
In addition, Mr. Baseball LLC has produced a "Limited Edition" of (120) Cherry Wood plaques depicting the Elysian Fields of 1846.
Background:
In the mid-1800s, Alexander Joy Cartwright, Junior was the founder of the New York Knickerbocker Ball Club. Not only did he create the first organized baseball team, but he also designed the baseball diamond and specified the distance between the bases, along with other rules and regulations still in use today. Although Cartwright was only with the Knickerbocker club for its first four years of existence, the club itself lasted until 1882. Cartwright caught Gold Fever in 1849 and ventured west. It is said he became a kind of "Johnny Appleseed" of baseball, teaching the game to settlers at frontier towns and Army posts, and even Indians along the way. He eventually traveled as far west as the Hawaiian Islands where he lived a notable life until his death in 1892.
His descendant, Alex Cartwright, IV, has become another kind of "Johnny Appleseed," who has spoken at various events over the years representing his ancestor's legacy. His website, MrBaseball.com, devoted to the history of baseball, attracts interest from baseball enthusiasts from all over the world. He receives emails for his assistance with historical baseball references from publishers and literary agents, and even children who want help doing a school report. Last year Mr. Cartwright created the Mr. Baseball Foundation to assist small community youth groups and to offer monetary assistance to the Cystic Fibrosis Society.
Contact: Alexander Joy Cartwright, IV
MrBaseball.com
2919 210th Ave East
Sumner, WA 98390.
877-551-1023
alex@mrbaseball.com
# # #