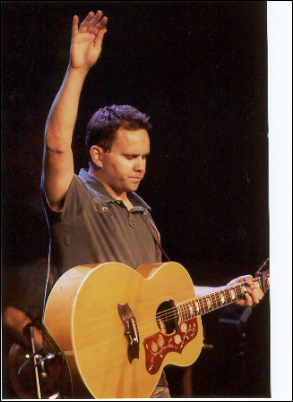 Grapevine, TX (PRWEB) June 15, 2005
It has been called the "United Nations of Worship." The participants come from different races, states, backgrounds, nations—but when they worship, the many voices are woven together in spontaneous celebration and song.
For four days and nights, thousands of worship leaders, musicians, pastors, dancers, choir directors and Christian lay people from around the globe will gather for a worship explosion at the 19th annual Worship Institute at the Gaylord Texan Resort and Convention Center in Grapevine, Texas, July 5-8, 2005.(http://www.worshipinstitute.com) From 8 am to after midnight, the sounds of rock, gospel, jazz, ethnic drums, and alternative music will be enjoyed by teens to grandparents representing the rainbow of American cultures, including Caucasian, African, Hispanic, and Asian.
United Through Worship
"The Institute helps to unite the nations through worship," explains LaMar Boschman, Dean and Founder of the Worship Institute. "Across the world, whether you are in the jungles of Guatemala, cathedrals of Europe or wooden pews of America's heartland, the advent of the digital world has made it possible for people to experience the same songs of worship with their own unique expression."
And, unique it is. At the Institute, worship is about participation not pious observation. From the moment the music starts, people are clapping, singing, and dancing, while the youth are jumping in the isles with arms raised like at a rock concert. The 240 voice choir comprised of worship leaders shake the building with a Grammy sound. The Friday night session processional with flags, dancers, Jewish shofars, banners and tambourines has the majesty of an Olympic ceremony. http://www.worshipinstitute.com
Diversity Builds Harmony
Diversity often means division, but at the Worship Institute diversity means strength and harmony. "An orchestra is built on diversity. Imagine the 1812 symphony without the trumpet or the Beatles without the drums," states Boschman. "We celebrate diversity because we know how important it is to our faith and success as musicians."
Christian Music is Big Business
The popularity and remarkable growth of the Christian music industry has gotten the attention of Nashville and Wall Street. Christian rock is the fastest growing segment of the music industry with Christian CD sales increasing 10% while CD sales are stagnant for other genres. In 20 years it has grown from at $85 million to a $720 million a year business with sales larger than classical and jazz combined. The "Songs of Worship" series from Time Life is the best selling offer in it's company history.
The Worship Institute provides over 100 workshops, master classes, and general sessions. Participating singers, choir leaders, musicians and pastors improve their technical skills, learn new techniques, build friendships and strengthen their spiritual growth. There are many stories of worship leaders who thank the Institute for helping them advance their career and find jobs in other cities and nations.
Eight Evening Sessions Open to Public
The 7:00 and 10:30 evening sessions are open to the public. This year's featured, award winning guests and popular speakers for the 7:00 sessions are Rita Springer, Darrell Evans, Morris Chapman, James Robinson, Bob Sorge, Ross Parsley and Boschman. Young people will take worship to the "Extreme" limit during late-night sessions that kickoff at 10:30 PM and close at midnight.
No Worship Wars Here
One faculty member explains, "In a world of wars and conflict, we are seeing that harmony may be found through the universal language of music expressed through a heart of worship." Boschman adds, "There are no worship wars among true worshipers because their love for God builds unity."
The 19th annual Worship Institute from July 5-8 will be at the Gaylord Texan Resort and Convention Center in Grapevine Texas. Registration is required for the workshops, classes and daytime sessions. Evening and late-night youth sessions are open to the public on a first-come, first-served basis.
For more information call, (817) 354-0690 or visit http://www.WorshipInstitute.com
# # #