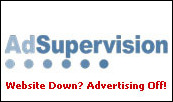 Chicago IL (PRWEB) June 16, 2005
AdSupervision (http://AdSupervision.com/us/), a patent-pending service designed to pause pay per click advertising campaigns when members' websites are unavailable has been released by website monitoring service InternetSupervision.com.
The system was built to assist PPC advertisers who were losing money on pay per click advertising networks when websites experience technical difficulty or catastrophic failures. Since PPC ad networks charge for clicks that ad networks generate whether or not client websites are available, the InternetSupervision service temporarily turns off specified campaigns until the web presence recovers at which point the campaign is reactivated.
"While the service can work for any advertiser using Overture, Adwords or 7Search, it is really an ideal solution for those that are in high volume industries and paying above average click prices," said company spokesman Pete Prestipino.
The AdSupervision system works through an API (Application Programming Interface) set up through specific vendors such as Google Adwords, Yahoo/Overture and 7Search.com. Additional ad networks and vendors are expected to be added in the coming months.
How the System Works:
When member's website are unreachable by web surfers the InternetSupervision system sends notification via email, SMS or voice contact. Members who have selected to use the AdSupervision feature receive an additional email notifying them that the PPC campaign they have associated with a particular website has been paused. When the website recovers, members receive two notifications; one indicating website recovery and one noting the ad campaign reactivation status.
InternetSupervision releases the AdSupervision feature after adding two remote check points in Sydney, Austraulia and Gloucester, UK to its existing network of monitoring stations and on the heels of a "Voice Contact" feature which has InternetSupervision 24-hour staff of operators' phone members to notify them of website failures.
About InternetSupervision:
InternetSupervision.com monitors the availability, performance, and content of websites, web servers and internet services from four UL approved offices with 24/7 personnel in Washington DC, Detroit, Chicago, Los Angeles, and Santiago, Chile and remote check points in Gloucester, UK, and Sydney, Australia. For more information, please visit http://AdSupervision.com/us/.
# # #