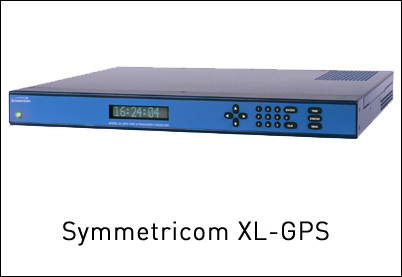 (PRWEB) June 21, 2005
San Jose, CA (PRWEB) June 21, 2005 —Symmetricom, Inc. (NASDAQ:SYMM), a worldwide leader in precision time and frequency products and services, today announced the XL-GPS Time and Frequency Receiver. The XL-GPS provides accurate time and frequency signals and a cost-effective global positioning system to support many applications including test and measurement, data acquisition, central timing systems, process automation, range timing, and the power industry.
The XL-GPS is a rack mount instrument with an internal, time optimized Global Positioning System (GPS) satellite receiver that locks to signals from the satellite atomic clocks. The XL-GPS provides a variety of signal outputs accurately synchronized to Coordinated Universal Time (UTC) with the long term stability of an atomic clock.
"The XL-GPS further strengthens Symmetricom's position in the time and frequency market by providing a mid-range, cost-effective solution for our diverse commercial and government customer base." commented Ron Holm, product marketing manager at Symmetricom. "A powerful, accurate and versatile GPS instrument, the XL-GPS leverages the core technology of the proven XLi Time and Frequency System to ensure ultra-precise time and frequency generation.
Symmetricom's XL-GPS Time and Frequency Receiver is a versatile, 1U instrument with user configurable inputs and outputs to suit application requirements. Signal outputs include a 1 pulse-per-second (PPS), IRIG-B time code, and rate outputs to 10 MPPS. Management and control is facilitated with a network interface. An optional expansion module provides additional outputs. The XL-GPS can be optionally configured to function as a Network Time Protocol (NTP) server for computer synchronization.
Key features of the XL-GPS Time and Frequency Receiver include:
Accurate to within 30 nanoseconds RMS UTC(USNO)
Frequency stability better than 1x10-12 (long term)
High performance 12 channel GPS receiver with TRAIM (Time Receiver Autonomous Integrity Monitoring) to protect against faulty satellite signals.
Pricing and Availability
The XL-GPS Time and Frequency Receiver will be available in July, 2005.
For more information please visit: http://www.xlgps.symmttm.com
About Symmetricom, Inc.
As a worldwide leader in precise time and frequency products and services, Symmetricom provides "Perfect Timing" to customers around the world, including communication service providers, network equipment manufacturers, U.S. Department of Defense (DOD), aerospace contractors, enterprises, governments and research facilities. Since 1985, the company's timing, frequency and synchronization solutions have helped define the world's standards, delivering precision, reliability and efficiency to wireless and wireline networks, instrumentation and testing applications and network time management. Deployed in more than 90 countries, instrumentation products include atomic clocks, cesium and rubidium standards, VME, VXI, crystal oscillators, Bus Timing, PCI cards and Global Positioning System (GPS) solutions for instrumentation applications, alphanumeric displays, as well as network time servers for Network Time Protocol (NTP) synchronization and time synchronization solutions. In 2002, Symmetricom acquired TrueTime and Datum, enhancing its position in the world time and frequency markets. Symmetricom is based in San Jose, Calif., with offices worldwide. For more information, visit http://www.symmetricom.com
Contacts:
Raychel Marcotte
BroadPR
617-645-6022
raychel@broadpr.com
Jeanne Hopkins
Symmetricom
978-232-1487
jhopkins@symmetricom.com
# # #