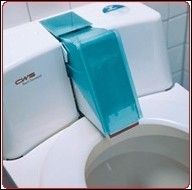 (PRWEB) June 21, 2005
The CWS Cleanseat fills the need for a simple, effective, economical solution that will provide you and your customers with a value added service and increased peace of mind. A distinguishing amenity that demonstrates that you care.
The CWS Clean Seat is manufactured in Switzerland by CWS and holds worldwide patents. It is produced by a company with 50 years in the washroom hygiene industry and an established product in European hotels, restaurants, airports, and corporate facilities. The CWS Cleanseat has been in use for over 10 years in Europe, and has an installed customer base of more than 100,000 locations. The CWS Clean Seat is designed primarily for commercial restrooms.
In the 21st Century your washrooms can be completely non-touch, thereby, improving the hygiene of your establishment. ASC Hygiene offers non-touch soap dispensers, non-touch towel dispensers, non-touch faucets, etc.
Along with the CWS Cleanseat, ASC hygiene can handle your complete washroom & hygiene care. Please visit our website for additional information or you may visit their showroom in Atlanta, Georgia.
Be sure to check out our Extreme Restroom Makeover from home page.
# # #