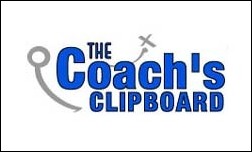 (PRWEB) June 25, 2005
Pasco, Wash. (PRWEB) June 25, 2005 – Fantasy football is big business, raking in over $100 million in sales alone in 2004. Fantasy football has become not only a hobby for football enthusiasts but a lucrative investment as well with prizes often awarded to winning fantasy teams at the end of the season. And because the fantasy football experts at The Coach's Clipboard know that having quality information is key to fantasy football success, they've created a website that makes getting quality information as easy as the click of a mouse.
The http://www.thecoachsclipboard.com website is dedicated to providing the best in fantasy football information, fantasy football stats, and fantasy football tips. The owners of The Coach's Clipboard have over 35-years experience in fantasy football, and a talented group of writers that make it their business to know everything about the goings on in the lives of football players both on and off the field so that they can provide team owners with the information that allows them to make the best decisions concerning players, drafting and roster moves. Due to their experience and attention to detail in the fantasy football arena, The Coach's Clipboard has maintained a 90% retention rate for returning members.
Fantasy football is the most popular of all fantasy sports with over 10 million fantasy football players in the U.S spending an average of $120 per year on the hobby. And with most of that money being spent on websites which claim to have inside information on fantasy football, it is no surprise that there are thousands of websites which are only too happy to charge fantasy football fans for access to that information. President of The Coach's Clipboard Mark Kanabrocki says, "It's amazing the number of sites out there that when you really get down to the basics of it all really have nothing substantial to offer team owners." Kanabrocki who's been in fantasy football as both a writer and a fan for over 20 years notes that fantasy football team owners are looking for a lot more than just an attractive website when it comes to acquiring fantasy football information. Kanabrocki says, "They want to be able to go to a fantasy football website and know that they're getting info – whether in the form of advice, a ranking, a cheat sheet, or an article – that will really help them win."
The newly redesigned website, now entering its fourth season, offers the best in fantasy football interactive features including fully customizable player rankings, Thursday's Player Prediction lists, Friday's Start/Bench List, and the Ease of Schedule Charts all laid out in a simple and easy-to-use format. Whether someone is a long-time fantasy football player or is a beginner looking to get in on the action, http://www.thecoachsclipboard.com has something to offer all football enthusiasts.
To get in on the fantasy football action with the best in information, stats, and tips log onto http://www.thecoachsclipboard.com and join today!
Long before the computer and the internet, back when fantasy football leagues were all done by hand on paper, The Coach's Clipboard was involved in fantasy football. They use their 35 years of experience as writers for football and fantasy football publications in everything they offer. But their knowledge doesn't just stop there – the writers at The Coach's Clipboard use their knowledge of both football and fantasy football to deliver the best in fantasy football rankings, cheat sheets, charts, articles and advice. Your fantasy team, is their business!
Click here, to read this article on The Coach's Clipboard website!
Contact:
Mark Kanabrocki
President & CEO
TCC Ventures, Inc.
The Coach's Clipboard
509-947-0945
###