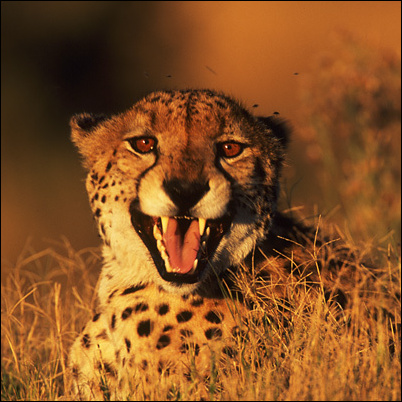 most knowledgeable regional expert for Southern Africa / Safaris
Chicago, IL (PRWEB) June 28, 2005
African safari expert and professional photographer James Weis, President of Eyes on Africa, Ltd. says Botswana is the most sought-after safari destination for travelers to Southern Africa over the past several years.
Historically, East Africa has been the preferred safari destination for photographers and wildlife enthusiasts. However, Botswana has steadily gained ground since opening its wilderness areas to tourists in the 1990's.
Today Botswana is renowned for its luxury tented safari camps and huge concessions of wilderness land combined with very low tourist densities, making for a private safari experience. The safari vehicles used in Botswana are modified, open-air Land Rovers, which also adds to the intimacy of the adventure.
According to Weis, "the wildlife viewing and photographic opportunities available on a Botswana safari are simply the best anywhere in Africa." Botswana has protected 37% of its land as National Parks or Wildlife Management Areas. Its strong conservation policies and minimal population pressure have given Botswana its unique position for sustained ecotourism.
"Over the past several years customized photographic safaris to the politically stable, democratic country of Botswana have become the choice of travelers seeking the very best in an African Safari," says native South African Nicky Glover, co-owner of Eyes on Africa.
Botswana's policy regarding tourism is to offer a premium-quality, low volume market. They do not wish to overexploit their wildlife and wilderness resources with mass tourism. The government is committed to a long-term perspective, with an emphasis on uplifting its citizens through tourism and wildlife.
Botswana offers a diverse array of safari locations including the famous Okavango Delta, the Linyanti Wildlife Reserve, Chobe National Park, and the Makgadikgadi Salt Pans. Each area offers visitors a different safari experience.
Botswana's on-going commitment to wildlife conservation includes the recent re-introduction of the Rhinoceros at Mombo Camp in the Okavango Delta. Extinct in the wild in Botswana since the late 1980s, guests to this remote safari destination are now once again able to experience the Big Five (Lion, Leopard, Elephant, Buffalo and Rhino) on a safari in Botswana.
Botswana is clearly one country that has recognized the value of investing in its wildlife and its wilderness lands as a sustainable resource and in this regard, has proven to be a model for other countries throughout Africa.
For further information on booking a safari to Botswana, including photos and details about Botswana's wildlife, its national parks and safari camps, contact Nicky Glover or visit http://www.eyesonafrica.net.
About Eyes on Africa
Eyes On Africa plans and operates African safaris to Botswana, South Africa, Zimbabwe, Namibia, Zambia, and Malawi. Owned by James Weis and Nicky Glover, the company has achieved continued success since its inception and was selected "most knowledgeable regional expert for Southern Africa / Safaris" by National Geographic Traveler Magazine in their 20th Anniversary Special Issue, October 2004.
Nicky Glover
Eyes on Africa, Ltd.
800-457-9575
# # #