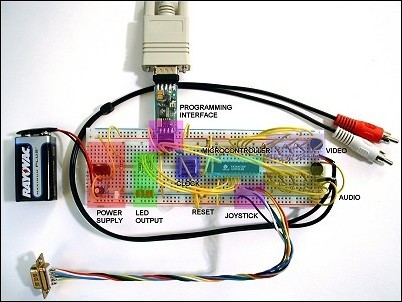 Tricks of the 3D Game Programming Gurus
Silicon Valley, CA (PRWEB) June 29, 2005
Nurve Networks LLC's new XGameStation Pico Edition educational game console development kit is now shipping worldwide. The Pico Edition is a follow up to the previously released pre-assembled XGameStation Micro Edition. The Pico Edition is for students and hobbyists that actually want to build the system by hand from a kit of parts. The Pico Edition comes as a kit complete with a solderless breadboard and all the components to build an entire working game console in about 1-2 hours.
Video games generate billions of dollars in revenue each year and game programming books occupy rows of bookstore shelf space. Video game development has made its way into college curriculums and entire game programming universities have emerged. But video games run on advanced hardware, the design of which is a black art that few understand.
For more than a decade, books by Computer Scientist and best-selling game development author Andre LaMothe (his latest title "Tricks of the 3D Game Programming Gurus") have taught generations of game developers to create today's cutting-edge video games. Now, his focus is changing from video game software to video game hardware with the unveiling of the XGameStation Micro and Pico Editions, a revolutionary new way to learn about the hardware that goes into building game consoles themselves.
The XGameStation Pico Edition (XGS PE) is a complete game development kit inspired by classic systems such as the Atari 2600, 800, Apple II, C64 and Nintendo Entertainment System. The XGS PE kit includes a kit complete with all the parts, necessary cables, an eBook written by Andre LaMothe on the design and programming of the XGS Pico Edition along with all the software necessary to create your own games, demos, and experiments.
Armed with a complete understanding of how the system was built and operates, users then create their own games or play games made by their peers. The online community at http://www.xgamestation.com completes the system's appeal, providing a place for XGameStation developers to share ideas, software and even discuss hardware modifications.
The system plugs into any NTSC TV and supports vintage Atari 2600 controllers. XGameStation Pico Edition's games and applications are stored on the internal processor's Flash memory, allowing users to develop and download their games from a PC using the accompanying tools.
In short, by empowering hobbyists and game developers with a game platform they can truly call their own, the XGameStation Pico and Micro Editions are reviving the magic of programming and hardware hacking for systems like the Apple II, Atari 800 and Commodore 64.
The official Website for the XGameStation is http://www.xgamestation.com/?refid=pr, where you will find Media, Downloads, Demos, and more information on purchasing the XGS Pico and Micro Editions.
# # #