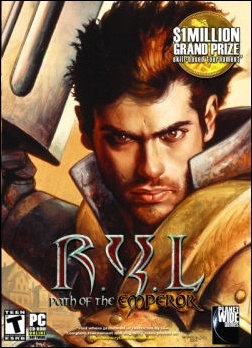 New York NY (PRWEB) July 1, 2005
Planetwide Games (http://www.RYL.net ) announced today that the RYL: Path of the Emperor $1,000,000 Grand Prize Skill-Based Tournament officially launched worldwide today live from New York on the Howard Stern Show. "The Howard Stern show is gritty, has raw energy and was a perfect fit for the launch of our RYL (Risk Your Life) video game tournament", stated Planetwide Games' President Kevin Donovan. "Howard's broadcasting style has always been an in your face, take no prisoners attitude, much in the same way the RYL: Path of the Emperor Tournament pits gamers in true Player vs. Player competition. Video gamers have been waiting for this chance to win the largest video game tournament Grand Prize in video game history, $1,000,000".
The RYL: Path of the Emperor $1,000,000 Tournament began today, July 1, 2005 and ends April 30, 2006, culminating in the RYL: Path of the Emperor Grand Finals event to be broadcast live and to take place in conjunction with the E3 Video Game Expo in Los Angeles, CA in May 2006. Interested players can view more details about the tournament rules and regulations at http://www.RYL.net/Tournament.
Major video game retailers such as EB Games, Gamestop, Best Buy, Fry's Electronics, CompUSA and Amazon.com are selling the new Massively Multiplayer Online Role Playing Game (MMORPG) RYL: Path of the Emperor. Gamers who purchase RYL at retail or online will be eligible to enter the $1,000,000 Tournament, subject to rules and regulations.
Gamers from the United States, Canada, United Kingdom, Brazil, Finland, Sweden, and India will compete and Risk Their Life in RYL: Path of the Emperor - Massively Multiplayer Online Role-Playing Game for virtual world supremacy in their goal to become the Emperor and win $1,000,000. Players outside the US and Canada are now able to purchase and download RYL: Path of the Emperor at http://www.RYL.net/Intl.
"Planetwide Games is the first video game company to offer gamers worldwide to play an MMOPRG for FREE by participating in ongoing monthly online surveys as an alternative method to traditional monthly subscription fees", stated Donovan. "Gamers now have the opportunity to earn FREE monthly online play at http://www.RYLSurveys.com and also receive their chance to compete to win $1,000,000."
RYL: Path of the Emperor is a persistent universe or role-playing game (RPG). RYL players start off at Level 1, with minimal skills and abilities, but over time they gain experience points, through achievement, which allows them to advance to Level 2, and beyond. As RYL players advance to each level they discover new and stronger skills, which assist them in their ability to try and survive during all encompassing battles against powerful monsters and against other players.
In the game, players can choose from 20 character classes and assume the role of a Warrior, Cleric, Mage, and Assassin and then explore the many exotic locations within boundless miles of terrain and virtual real estate. In RYL: Path of the Emperor, players meet other players in a diverse real time environment where a community of thousands of players simultaneously compete and take part in specific quests and missions, fight monsters and other players, battle in Guild vs. Guild duels, buy, sell and trade virtual merchandise, and build fortresses. Lastly, RYL players have the chance to receive the ultimate gaming reward; to become the actual Emperor of RYL, rule over the land, and choose your path to win $1,000,000.
Some of the many innovative features of RYL: Path of the Emperor include:
-- True Player vs. Player (PVP) Action
-- Guild vs. Guild Battles
-- Customized Character Creation
-- Hundreds of Quests
-- Compelling and Intuitive Combat System
-- Innovative, Customizable "Skill System"
-- Upgradeable and Limitless Armor and Weapons System
-- Build Fortresses
-- Persistent Universe
-- Thousands of Miles of Treacherous and Exotic Terrain
-- Virtual Real Estate Ownership
-- Become the Emperor and Rule the Land
About Planetwide Games
Based in Costa Mesa, CA, Planetwide Games (a Bluetorch On-Line Games, Inc. company) is establishing itself as a provider of leading online video games and interactive entertainment. Planetwide Games also develops proprietary online technology, software products, and is building a worldwide network of affiliates to distribute their games.
For more details visit the following Planetwide Games websites:
http://www.PlanetwideGames.com
http://www.RYL.net
http://www.RYLSurveys.com
http://www.RYL.net/Intl
http://www.RYL.net/RYLGirls
Company contact: Mark Politi
VP Sales and Marketing
Planetwide Games
(800) 560-2993 x202
Mark@PlanetwideGames.com
Media contact: Rita Tennyson
Terpin Communications
(310) 821-6100 x104
rita@terpin.com