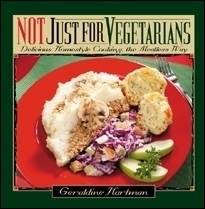 (PRWEB) July 5, 2005
No matter what your diet preferences are, vegetarian or meat-based, if you and your family enjoy delicious, easy-to-prepare, homestyle recipes, this cookbook is for you! With more and more people looking for ways to significantly reduce (or eliminate) their meat consumption without giving up family-favorite comfort foods, this collection of sumptuous triple-tested recipes is the answer to having it all.
Enjoy tempting recipes like:
-Red, White and Black Chili
-Family-Favorite Lasagna
-Quickie Cabbage Rolls
-Mushroom Stroganoff with Herbed Pasta
-Hummus with a Twist
-Tuscany Minestrone Soup
-The Best Zucchini Chocolate Cake
-Kid's Night in the Kitchen Deep Dish Pie
-Valentine Love Bites
-Bread-Machine Rosemary Flax Buns
-Tahini Terrific No-bake Energy Bars
-Green Goddess Dressing
-Traditional Irish Potato Soup
-Old-Fashioned Veggie Stew with Parsley Dumplings ...and so much more.
Truly amazing no-meat recipes that family and friends will ask for again and again. There are also tempting, flavorful and very satisfying recipes for appetizers, breads and muffins, salads and sauces, an incredible variety of soups and of course, 'The Wow Finish', desserts to add a happy ending to any meal. Superb, mouth-watering food photos add to the appeal of this must-have cookbook.
If you enjoy easy-to-prepare, delicious, homestyle cooking (and who doesn't?) and chose to eat meatless for any day or every day of the week, you're going to love all the choices you now have in, "Not Just for Vegetarians."
Makes a perfect gift too, that will be enjoyed for years to come.
Be sure to check out http://www.notjustforveg.com for some great summer recipes to try and enjoy again and again!
# # #