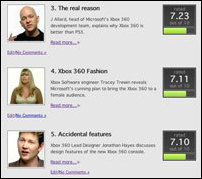 Perth, Western Australia (PRWEB) July 11, 2005
Hypebox360.com is a new parody site that offers a humorous look at the much-hyped unveiling of Xbox 360, the successor of Microsoft's Xbox video games console. The site's hilarious content is based on promotional material that has surfaced since the glitzy Xbox 360 reveal show on MTV. Hypebox360.com features video stills taken from Xbox 360 promotional clips, showing various keyplayers from Microsoft's Xbox 360 development departments. The video stills are arranged as slideshows, and captions are used to put humorous words and quips in the mouths of those depicted, with amusing results.
The creative force behind the cheeky parody is Cherry Internet Services ("CIS"), publishers of a range of video game related web sites. CIS' Creative Director Markus Weichselbaum names the Xbox 360 MTV Special as his source of inspiration. "The MTV show was a slick, stage-managed production chockful of celebrities, gimmickry and marketing hype. The promotional clips that followed, showing Microsoft staff excitedly discussing the Xbox 360, turned out to be a goldmine for parody." Weichselbaum is quick to point out, however, that there is no malicious intent behind the creation of http://www.hypebox360.com. "Hypebox 360 is purely tongue-in-cheek, intended to make people laugh with video game related humor. We're not trying to make fun of anyone nor are we anti-Xbox - in fact, when the Xbox 360 console hits the shelves, we'll be among the first to buy it!"
The parody site currently comprises an ever-growing number of interactive slideshows ranked by amusement value. Visitors can directly influence the ranking by rating their favorite slideshows as well as leave comments and discuss their opinions with others. A future feature of http://www.hypebox360.com will allow visitors to create and caption their own slideshows.
Hypebox360.com began life as a couple of comedy slideshows posted on http://www.ps3focus.com, a video games news site operated by CIS that reports on the next generation of video game consoles, Playstation 3, Xbox 360 and Nintendo Revolution. Initial attempts to publicize the slideshows among the online gaming community produced varied results, as some site administrators couldn't quite see the funny side: a leading Xbox site removed the post from their discussion boards within ten seconds, and a Playstation 3 forum site immediately locked the post to avert the eruption of a flame war. Further posts on other forums generated considerable interest among gamers, leading the CIS team to place a collection of their funny creations on a site in its own right - thus http://www.hypebox360.com was born.
The new site is designed to appeal not only to PS3 fans eager to see the Xbox 360 brought down a notch, but to anyone who can appreciate a humorous look at the hype surrounding the release of new video game consoles. No one is safe from a little harmless teasing, says Weichselbaum. "Nintendo and Sony have only been spared our gag attempts by virtue of the low-key presentations of their new consoles. We look forward to receiving material related to the Sony Playstation 3 and Nintendo Revolution to even up the score."
Company Information
Cherry Internet Services Pty Ltd (CIS) is a privately-held company headquartered in Perth, Western Australia and incorporated in 2003. CIS specializes in web publishing, software development, internet advertising and affiliate marketing solutions. For more information, please visit http://www.cherryis.com.
Contact
Markus Weichselbaum
Cherry Internet Services Pty Ltd
Ph +61 8 9328 3008
Fx +61 8 9328 3205
###