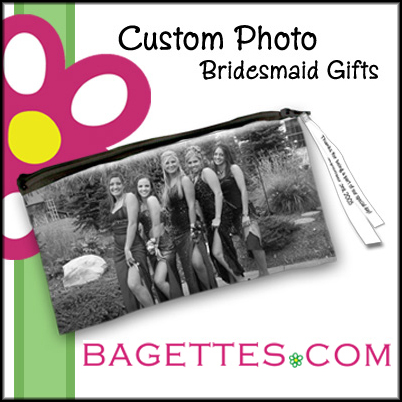 Prairie Village, KS (PRWEB) July 13, 2005
Planning a wedding can be one of the most stressful times for a bride-to-be. By the time she has picked out the flowers for the wedding, music for the wedding reception, the bridesmaids' dresses, and wedding favors for the table, she is done making decisions, and often the faithful bridesmaids' gifts become a last thought. Bagettes.com has the solution for affordable and personalized gift ideas for the entire bridal party – custom photo make up bags with pictures of the bride and her girlfriends.
Bagettes.com makes it easy for brides to create custom photo gifts with photos of herself and her friends from their childhood, college days or bachlorette party - the possibilities are endless. We even had one clever bride who made her bridesmaids personalized photo gifts with the images of the each of their beloved pets on them. The finished quality continually exceeds the bride's expectations. Bagettes.com creates their products using a high tech imaging process. The images are imbedded into the fibers – the result is a high quality image on a bag that won't fade, peel or rub off and will last for decades.
Time and time again, Brides write to Bagettes.com to thank them for finding the perfect bridesmaid gift. From one bride, we heard "I am so pleased to know that I gave my bridesmaids the BEST bridesmaids gift ever. I searched and searched for the most unique gift out there. I was also determined to get them something useful and something they would like. (A person can only get so many engraved picture frames.) The bags are absolutely priceless and I can't think of a better way to show someone what they mean to you than by being able to capture a moment of your relationship on a bag that they can show to others." To read other comments and ideas from our bridal customers, enter the Bagettes Blog.
A gift from Bagettes.com not only makes wonderful bridesmaid gifts, but they have great gift ideas for women, anytime of the year - Mother's Day gifts, Christmas gifts, Teacher gifts with a class photo, gifts for Grandma and sorority sisters to name just a few. In addition to the make up bags, the line of products features a small keychain/coin purse, cosmetic purses, handbags, and a golf accessory bag designed to hold tees and ball repair tools. Also in the line is a large multi-purpose tote, which can be used as a travel bag, knitting bag, diaper bag, or gym bag.
Bagettes.com is owned by husband and wife team, Bryan and Felice Azorsky. With their dedication to excellent customer service, high quality products at affordable prices, and continued development of new products, Bagettes stands out in the personalized photo gift industry.
Contact:
Felice Azorsky, owner Bagettes
888-894-2496
# # #