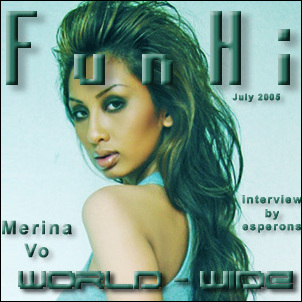 why settle for just fifteen minutes?
New York, NY (PRWEB) July 18, 2005
FunHi.com, pioneer in online social networking, announces model Merina Tram Vo as its July 2005, FunHi World-Wide Starlette Of The Month (FSOM). While producing fashion covers and being a model, consultant and coaching babes, Ms. Vo is going outside the box by releasing an e-book with an innovative spin on Warhol's fifteen minutes of fame. Her e-book's seductive hook, "why settle for just fifteen minutes?"
The online club is a maverick itself. Famous for its virtual economy studded with street racers, millionaires, hot babes and models, its savvy culture is enjoyed 24/7 at http://www.funhi.com
FunHi has been a runaway social networking success. The site recently extended its service to mobile phones with a combination of sexy mobile alerts and mass messaging. The latest FSOM issue is a tribute to having fun, hooking up and getting noticed outside the box. The response to working the club from the outside has been massive, putting a new spin on mobile entertainment.
"We're not your father's journal space. That's why FunHi is pleased to give a bright star like Merina Vo a chance to show the world why her name will be on the forefront of her space. It's the essence of FunHi." says FunHi's President and CEO Ray Savant.
All FunHi Starlette's are chosen by FunHi editorial. In the past the FSOM has included an open casting call on FunHi's paid nomination system. This time, because the open casting call causes near riot on the site, to calm the frenzy editorial only used scouts. FunHi has attracted hundreds of professional talent scouts and agents who have landed its members additional media exposure, including network television and fashion magazines.
About FunHi LLC
FunHi.com is a leader in next generation social networking. Its unique entertainment features, its affiliation with mobile media portal MatrixM.com (http://www.matrixm.com) and its platform powered by Mikusoft LLC allow it to provide the hottest new social networking scene possible. Its parent company Revenant Global LLC also owns virtual TV station and moblog RevGTV (http://www.revgtv.com)
About Merina Tram Vo
Merina Tram Vo has co-written the e-book "Get Your 15 Minutes of Fame: An 8-Step Roadmap to Living Famously." As an author, speaker, entrepreneur, model, fame coach and consultant, she also runs an award-winning bulletin "Ask Merina." The book and bulletin are available at http://www.getyour15minutesoffame.com
For further information, please contact:
Esperons, FunHi LLC
+1-866-645-8763, Ext. 2, for FunHi.Com.
# # #