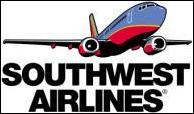 Las Vegas, NV (PRWEB) July 19, 2005
Southwest Airlines (NYSE: LUV) celebrates a milestone today by breaking the 200 daily flight mark at McCarran International Airport. The airline is adding three new flights to its Las Vegas schedule, bringing the airline's total number of daily flights from Las Vegas to 201. With the additional flights, Las Vegas remains the largest of Southwest Airlines' 60-city operation.
"Breaking the 200 daily flight mark in Las Vegas is a real landmark for Southwest Airlines," said Southwest Airlines Chief Executive Officer Gary Kelly. "This is the first time in our 34-year history that we have offered more than 200 daily flights from a single city. Clearly, Las Vegas is one of the country's most popular destinations, and we are thrilled to be the city's most popular airline."
Southwest Airlines' new service breaks down as follows.
As of July 17, 2005:
Two additional daily nonstop flights between Las Vegas and San Diego (for a total of 14 daily flights).
One additional daily nonstop flight between Las Vegas and Oakland (for a total of 13 daily flights).
To take advantage of these new flights click: http://www.southwest.com/jp/luvhome.shtml?src=PR_las_071905 .
"With more than 200 daily flights, our odds are always going to be better on Southwest Airlines," said Southwest Airlines Regional Marketing Manager Roz Santangelo. "And with our everyday low fares, Customers will love the great deals they find on southwest.com!"
Southwest Airlines began service to Las Vegas McCarran International Airport in January 1982 with five daily flights to Houston and Phoenix. Over the last 23 years, Southwest Airlines has grown to capture more than 30 percent of the Las Vegas market share, transporting more than 10 million Customers in 2004. Today, Southwest Airlines offers 201 daily nonstop flights to 49 cities including Albany, Albuquerque, Amarillo, Austin, Baltimore/Washington, Birmingham, Boise, Buffalo, Burbank, Chicago Midway, Cleveland, Columbus, El Paso, Hartford/Springfield, Houston Hobby, Indianapolis, Kansas City, Little Rock, Long Island/Islip, Los Angeles, Louisville, Lubbock, Manchester, Midland/Odessa, Nashville, New Orleans, Norfolk, Oakland, Oklahoma City, Omaha, Ontario, Orange County, Philadelphia, Phoenix, Pittsburgh, Portland, Raleigh-Durham, Reno/Tahoe, Sacramento, St. Louis, Salt Lake City, San Antonio, San Diego, San Jose, Seattle, Spokane, Tampa Bay, Tucson, and Tulsa, plus direct or connecting service to nine additional cities.
Southwest Airlines also is heavily invested in the Las Vegas community. In 2004, Southwest Airlines' direct economic impact in Las Vegas was nearly
$219 million (salaries and benefits paid to Employees, fuel, landing fees, and other expenditures). Next to fuel, the largest contributions come from the airline's large Employee base. In addition, Southwest Airlines has an investment commitment of nearly $650 million in Company resources dedicated to Las Vegas.
To commemorate the Company's milestone, Southwest Airlines' Employees today will host a black-tie celebration at McCarran International Airport. In typical Southwest style, airline Employees will be decked out in tuxedo T-shirts and shorts. Southwest Airlines' Customers traveling through Las Vegas will be entertained with gate games, Elvis impersonators, and beautiful Las Vegas showgirls.
Southwest Airlines thanks the people and travelers of Las Vegas for helping it reach new heights at McCarran International Airport. Southwest Airlines, the nation's largest airline in terms of domestic Customers boarded, currently operates more than 3,000 daily flights to 60 cities in 31 states. The carrier will begin service to Ft. Myers, Fla., on October 2, 2005.
To take advantage of Southwest Airlines' super low fares, Customers who book their travel via the Internet can subscribe to Southwest Airline's Click 'n Save e-mail updates as well as Southwest Airlines' newest technological innovation -- DING! DING! delivers Southwest Airlines' hottest deals directly to Customers' desktops allowing Customers to get a jump on the latest southwest.com sales! For more information, visit http://www.southwest.com/ding .
Media Contact:
Public Relations of Southwest Airlines
+1-214-792-4847
Customers:
+1-800-I-FLY-SWA or +1-800-435-9792
en espanol:
+1-800-VAMONOS or +1-800-826-6667
# # #