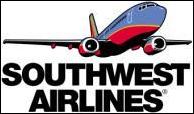 Dallas, TX (PRWEB) July 19, 2005
Southwest Airlines (NYSE: LUV) applauds the fact that today, under the sponsorship of Senator John Ensign from Nevada, joined by Senators John McCain from Arizona, Sam Brownback from Kansas, and Joe Lieberman of Connecticut; a U.S. Senate bill was introduced that would amend the 26-year old Wright Amendment. This complements the introduction by U.S. Representatives Jeb Hensarling and Sam Johnson (now joined by 23 House co-sponsors), of their "Right to Fly Act" in the United States House of Representatives.
Southwest Airlines applauds the tremendous leadership and vision of Senators Ensign, McCain, Brownback, and Lieberman who are true benefactors of the people of America. This is another significant step toward the ultimate goal of opening the skies for greater access to low fares as a result of unfettered airline competition.
Studies show the Wright Amendment deprives people all across America of $700,000,000 per year in lower air fares and $3,500,000,000 per year in the economic and personal benefits conferred by 3.7 million more annual passenger trips. The Wright Amendment, restricting access to Southwest Airlines' low fares at Dallas Love Field, is truly a national issue.
The introduction of the Senate Bill is a major step forward in bringing the Freedom to Fly to 3.7 million more Americans per year, and the People of Southwest Airlines will remain diligent in their efforts to educate the public on the importance of stimulating the economy through greater access to low-fare air travel.
We are thankful for, and gratified by, the introduction of the Senate Bill today.
Note to Editors: To receive future releases automatically via e-mail, sign up for e-mail news alerts at http://www.southwest.com . Just click on "About SWA" and "Press Releases."
Media Contact:
Public Relations of Southwest Airlines +1-214-792-4847
Customers:
+1-800-I-FLY-SWA or +1-800-435-9792
en Espanol:
+1-800-VAMONOS or +1-800-826-6667
# # #