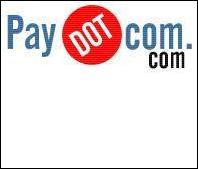 Holbrook, New York, (PRWEB) July 21, 2005 -
– PayDotCom.com, Inc., a new Online Marketplace opened it's doors to Online Vendors to sell anything from Both Digital and Physical Products and services. It also allows vendors to expose their products not only to buyers, but millions of other online stores to get an army of affiliates to sell their services.
Users of PayDotCom.com simply list their items in our directory and we integrate our services with the vendors PayPal® or Stormpay® Account. All payments are made directly to the vendors account and PayDotCom.com provides all stats tracking such as hits and sales to and from your sales page. All data is provided in reports for both vendors and their affiliates. Vendor uses PayDotCom.com to instantly pay all their affiliates at the close of each month via PayPal MassPay, StormPay MassPay, or by check.
PayDotCom.com is free to join and anyone with a PayPal or Stormpay account can join for free and start selling in just minutes from their website.
Some of the most important and exclusive features provided are:
Instant Payments to Vendor
Vendors can set a 1, 2, or Multi-Tier affiliate program
Account is free to set up
No Pre Approval needed to start selling
Monthly Billing and Subscriptions can be used
Vendor can sell both digital and physical products
All items are displayed in our marketplace when a sale is made (Optional)
There are no limits or caps on product prices
Vendors sets own refund policy if at all
Full stats tracking for all transactions
Tack, manage, and email all of your affiliates
Much Much More...
PayDotCom.com launched its open to the public website and marketing campaign on July 15, 2005, and within a few days PayDotCom.com was attracting thousands of new vendors and affiliates each day. PayDotCom.com anticipates capturing and converting a large percentage of the existing online affiliate marketplace community, but expects to be the only place new comers will be turning to as a way to sell items online.
PayDotCom.com offers any person a free account and our fess are per transaction and are lower than almost any other competitor and no one offers the ease of use and function found at PayDotCom.com. PayDotCom.com is a secure service and proud member of VeriSign®.
If anyone is wondering how to sell products online or have other people sell your products and services, this is the easiest and most profitable solution. Current members are raving about the service and it is expected to take over as the new leader in affiliate driven marketplaces.
About PayDotCom.com
PayDotCom.com, Inc. is a New York Corporation with offices in Holbrook, NY. PayDotCom.com is an affiliate driven marketplaces that integrates with the vendors PayPal or StormPay account and soon to be merchant accounts. It's a fun, simple, low-cost way for anyone to start selling online. PayDotCom.com account holders can securely receive money from anyone with a PayPal or StormPay account. PayDotCom.com is free to join and that may be a reason why everyone seems to be making the switch.
# # #