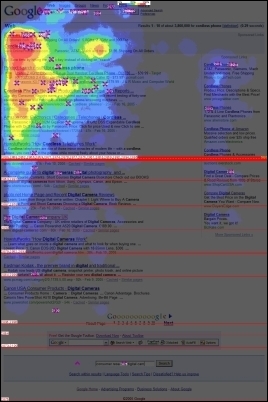 SEM Agency Constellation Vendor Evaluation.
(PRWEB) July 21, 2005
Kelowna, British Columbia (PRWEB) July 21, 2005 - An eye tracking study conducted by Enquiro, a search marketing firm, Eyetools and Did-it found that up to 70% of searchers start their scanning in the paid advertising portion of the results on Google. This follows on the WebWatch study by Consumer Reports (http://www.consumerwebwatch.org/dynamic/search-report-disclosure-update-abstract.cfm), which found that searchers are still confused about what's sponsored and what's not on the search results page.
This eye tracking study is the in-depth findings of eye tracking sessions conducted in January of this year. The initial release from this study discovered the pattern of intense scanning seen in the upper left corner of the results page, referred to in the study as Google's Golden Triangle. The latest release goes into the results of the study in much greater depth.
Significant findings include:
When top sponsored ads appear, up to 70% of searchers began scanning results there.
The more that appears above the free (or organic) listings, the more likely it is that a searcher will start reading before they hit the organic listings
Despite this, a significant number look first at sponsored listings, but then immediately shift down to the organic listings.
Ads in the top sponsored positions stand a much better chance of being seen than in the side position.
Decisions about which listings are the best match for the search are made very quickly. The average time spent scanning a results page was about 6 and half seconds, in which time fewer than four search results are scanned.
As searchers look at a page, there is a combination of quick visual scanning and more active reading. They do not tend to deliberately read every listing.
The eye tracking study tracked the eye movements of 48 participants who were given 3 different scenarios in which they would use Google. After, the individual sessions were analyzed, both separately and in aggregate. This analysis resulted in a 106 page white paper that goes into the findings in depth. Topics explored include:
Importance of the "Golden Triangle"
Interaction with top organic results
Interaction with lower organic results
Impact of "OneBox" results
Impact of top sponsored ads
Interaction with side sponsored
How we scan a listing
"Semantic Mapping" in search
Impact of bolded search queries and icons
Confidence with search results
Searcher behavior
Demographic analysis
Men vs. women and their search patterns
The "Waiting for Load" scan
Success of links clicked
The full whitepaper is available for $149 at Enquiro's Download Page.
About Enquiro
Search marketing is an incredibly effective channel for connecting with potential customers. And the more you know about how your customers interact with search, the more successful that channel will be. At Enquiro, we never stop exploring how to make search more successful.
About Did-it
Jupiter Research named Did-it.com #1 in market suitability among all agencies evaluated in their December 2004 "SEM Agency Constellation Vendor Evaluation."
About Eye Tools
Eyetools provides tools and services to measure eye-movement as people look at web pages to quantify what people read, what they don't read, what they glance at, what they skip and what they never see... and then we correlate this to their clicks, comments and actions.
For more information or a media copy of the report, please contact:
Gord Hotchkiss
Enquiro
800 277 9997
Or
Colin Johnson
Eyetools
916 792 4538
# # #