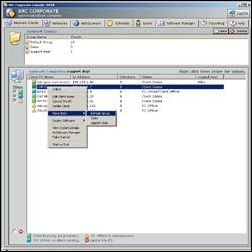 because it brings together some of the most important functions that business are looking for wrapped up in one easy to use console
Columbus, Ohio (PRWEB) July 25, 2005
SRC Technologies, LLC, a leading developer and marketer of Anti Spyware software, announces SRC Corp (Beta), saving companies valuable time and money. We have bundled many features in our software allowing companies to manage their networks from one easy to use console.
"SRC Corp is unique software" said Joe Daley, CEO of SRC Technologies, "because it brings together some of the most important functions that business are looking for wrapped up in one easy to use console" Not only does SRC Corp help prevent spyware and adware it also helps with productivity allowing the admin to manage many tasks on the network without actually being in front of the clients machine.
A recent report predicts that the number of corporate users with anti-spyware tools will grow from 16 million users in 2005 to 540 million users in 2009.
It also says the costs could rise to as much as $249 (£139) per user, as IT departments are swamped by users whose computers have been infected by spyware.
SRC Technologies has spent the last year developing and meeting with IT Management from the small networks to very large
networks to find out exactly what their needs are and what features would help secure and streamline their network in the year 2005.
Here are some features provided by SRC Corp.
-Comprehensive Spyware Detection & Removal
-Individual Computer Performance
-Remote Access to any Computer from the Console
-Monitor Every Computer at a Glance
-Wak-On-Lan remotely turn all your client machines on
-Easy Software Employment and Network Search Function
-Centralized Management Console
-Broadcast messages to all workstations on the network
-Policy Compliant - Master Accounts
-Automatic Updates and On-Demand Scanning
-Centralized Logging and Reporting Capabilities
-Easy Installation and Deployment
-Strong Monitor Feature Keeps Spyware and Adware from Coming Back.
For more detail visit http://www.srctechs.com
SRC Corp Beta will be released in August 2005.
If you would like more information on SRC Corp and how we can help your business please visit http://www.srctechs.com/contact.asp
About SRC Technologies
SRC Technologies, LLC, a leading developer and marketer of Anti Spyware software. SRC Corp helps secure the small to the very large network against the ever growing threat of spyware and adware. SRC Corp has built in many features to help productivity and streamline the network.
Technology expertise is the key to success in our industry.
For More Information:
Joe Daley
4641 Leap Court.
Hilliard, Oh 43026
Phone: 614-777-8801 X:101
Fax: 614-777-8803
# # #