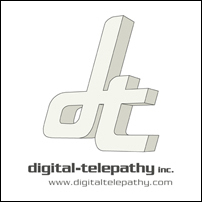 (PRWEB) July 26, 2005 -
San Diego, CA –telepathy, Inc. and IgniteMySite.com, two leading San Diego Internet marketing and web design agencies, have teamed up. In the ever-evolving field of Internet marketing, this union offers accelerated campaigns which will catapult customers' return on investment.
For the past five years both digital-telepathy, Inc. (http://www.dtelepathy.com/) and IgniteMySite.com (http://www.ignitemysite.com) have been on the forefront of Internet marketing and web development in Southern California. Specializing in different niches, their combined services form an integrated, cutting edge marketing service provider. IgniteMySite.com's ecommerce and strategic partnering expertise combined with digital-telepathy's innovative conversion-based marketing and web design, creates an exceptional Internet consulting environment.
As one of few online advertising agencies who feature lead generation-based or conversion-based marketing, digital-telepathy, Inc. offers a whole new level of services to their clients. This extremely focused type of Internet marketing uses website analytics to track and elevate a campaign's performance.
Each custom campaign drives traffic to the client website and fosters lead generation through calls to action. Be it request for quotes, contact forms, etc, digital-telepathy, Inc. works closely with you to determine specific calls to action best suited to attracting business to your company via your web presence.
Strategic placement of the resulting calls to action enables digital-telepathy, Inc. to compile performance tracking reports. Close rates and conversion rates are then calculated to measure cost per customer acquisition and ultimately the resulting value gained for each lead delivered from digital telepath's customer conversion system. This value symbolizes a guaranteed ROI and allows customers to make informed decisions on how to best apply their budgets.
digital-telepathy, Inc. offers IgniteMySite's customers a whole new form of online conversion tracking (perfect for ecommerce) and delivers a finely balanced marketing campaign that ensures a positive ROI. Meanwhile IgniteMySite.com offers digital-telepathy's customers advanced ecommerce and web development options.
In 1999, IgniteMySite.com's work on The Village Hat Shop (http://www.villagehatshop.com) increased their client's business by 3,000%. Their work was recognized as the site was named one of Time Magazine's top 10 Internet shopping websites. It also received a Top Website award from Yahoo.
In their continual focus to create strategic online partnerships, IgniteMySite.com has attracted clients from around the world. Some of their current clients include a top PR firm in New York, Hawaii's largest snack food distributor, a top Asia security firm and a top motorcross accessory retailer.
digital-telepathy, Inc. has also experienced growth with back to back awards from the San Diego Chamber of Commerce. Winning Best Customer Service in 2004 and Emerging Business of the year in 2005, digital-telepathy's dedication to their clients is proven. digital-telepathy, Inc. currently services many of San Diego's Gaslamp entertainment venues such as On Broadway and Aubergine, as well as many real estate developers including Maisel Presley and Gerding/Edlen.
"We are determined to grow our business only after growing our clients' businesses," says Chuck Longanecker, President of digital-telepathy, Inc.
As an international customer base now gains access to this San Diego duo's combined Internet marketing expertise, only look for more growth to come.
###