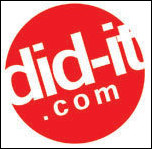 New York, NY (PRWEB) July 22, 2005 -
– Did-it.com has evaluated the upcoming changes to the Google AdWords AdRank algorithm rumored to be releases during early August, and determined that the impact of the change is likely to affect the monetization rate, or yield, Google realizes from the millions of searches daily for which it serves ad links.
Impact On Google Revenue
"Based on a combination of improved monetization per search and bid escalation, fueled as a result of the upcoming change, Google may even see a double-digit yield improvement" says Kevin Lee, Executive Chairman of Did-it.com.
Until now, Google has ranked ads through an algorithm that combines clickthrough rate (percent of times the ad is clicked) and the amount each advertiser bid for the ad. Ads with the optimal combination of predicted clicks and ad price received both high positions and wide distributions within the Google ad network; ads that weren't clicked sufficiently were disabled.
Starting early August (according to sources), two changes will take place. First, any marketer willing to pay the Google AdWord's minimum bid will be able to compete for a spot within the ad rotation. Second, many of the factors that determine ad rank in the way AdWords ads appear will change. Factors that control an ad's rank and rotation have been modified based on a new calculation of predicted clickthrough rate. However, the basic formula of predicted clickthrough rate combined with bid will stay the same.
The major new criterion being used to calculate the predicted clickthrough rate will involve a new quality score—a number based on the likelihood that a searcher will click on an ad. By including additional factors in calculating a predicted click rate, Google can select ads in the order of highest yield downward. Which means that ads that are likely to do better—and so get more money for Google—will appear in the most visible positions. Quality score factors include: historical keyword performance, creative, match type, as well as other variables Google declines to disclose.
The minimum cost-per-click bidding price for certain keywords or ad creative, in order to stay in the AdWords rotation could be very high." You could be looking at minimum bids of over $0.50 a click," says Lee. However, highly targeted ads a certain keywords may see CPC minimums drop below the $.05 current minimum. CPC minimums will be determined by the quality score.
Affect On Marketers
Aside from Google, adds Lee, marketers bidding on generic and branded keywords will likely see more competition as a result of the change. Explains Lee, "The way things are now, there are so many people bidding on generic and branded terms that many of them end up with low clickthrough rates. They get thrown out." "Now that you can pay to stay in the running," Lee says, "the market for popular keywords becomes much more dynamic. So the prices for those terms could escalate dramatically."
Google's Timing
Bill Wise, Did-it.com CEO, points out that Google's timing for the changes have been carefully planned. "Obviously, the timing of this change in algorithm and policies, coinciding with Q3 and Q4, gives Google a strong position for the holidays," Wise says. "It could be a goldmine for Google. But, of course, a challenge for marketers hoping fore reasonable keyword bid prices for the Holiday shopping season."
Adds Wise, "Being prepared for this change will be based largely on how well you know the ins and outs of the Google system. Did-it clients will continue to have an unfair advantage in the marketplace as we leverage our inside knowledge of the Google systems, largely by taking advantage of little known loopholes in the Google system."
If Google's PPC search advertising is critically important for your firm, perhaps a call to the Did-it.com team makes sense for your company. Founded in 1996, Did-it is a leader in the field of Search Engine Marketing. Unlike other firms, Did-it's techniques and technology deliver profits though a proprietary customized campaign management platform that updates keyword bidding strategies in real time while also providing a platform for execution of sophisticated conversion enhancement tests. Through the application of tailored strategies, the Did-it team delivers unmatched results. Executive Chairman and Co-Founder Kevin Lee has authored over 100 search marketing articles and speaks at top conferences internationally. Kevin is also the Chairman of SEMPO.org and advises the investment community on trends in search engine marketing.
Did-it.com can be reached at Did-it.com or 800-932-7761.
# # #