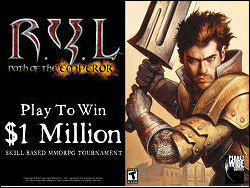 RYL: Path of the Emperor
Costa Mesa, CA (PRWEB) July 28, 2005
Planetwide Games (http://www.PlanetwideGames.com) announced today its $1,000,000 Grand Prize Tournament update with a new and easier way to access and download "RYL: Path of the Emperor" (Risk Your Life) MMORPG video game online at (http://www.RYL.net). "RYL: Path of the Emperor" is the first Massively Multi-player Online Game to offer a $1 Million Cash Prize to the winner of a Skill-Based Tournament," stated Planetwide's President, Kevin Donovan.
"Players from around the world have logged on to compete head to head with one another in True Player vs. Player online battles," notes Donovan. "Each player realizes that they are competing for $1,000,000 Dollars, which has raised the level of intensity in "RYL." The fierce tournament action is evidence that "RYL: Path of the Emperor "MMORPG delivers on its advanced and intuitive battle system. Our first twelve qualifying finalist from July, the first month of competition, will be announced on August 1, 2005 at http://www.RYL.net and at the present time the leading tournament players represent the following countries; USA, Brazil and Turkey. Starting August 1, 2005, the second month of tournament action, the odds of qualifying are equal for every player."
Here's what the industry is saying about "RYL: Path of the Emperor": Warcry – "RYL: Path of the Emperor" injects a clever blend of Diablo, Lineage and Guild Wars into the Western MMO Market. "RYL" does a great job of mixing FPS, twitch combat with the traditional MMO feel. It's graphically stronger than Guild Wars, but maintains a similar style. Combat is clean and laden with beautiful particle effects. G4Tech TV - Fighting is Fast and Fierce. Metacritic - Users give "RYL: Path of the Emperor" 8.9 out 10. GameSpy - The Spell Effects are gorgeous. One thing "RYL" does have going for it is its skill system. 1UP.com - The Graphics are terrific. The interface is intuitive to both Diablo Players and FPS Vets, with both keyboard mode and mouse mode available. Another strong aspect of "RYL" is the PvP (player versus player) combat. If you like hack-n-slash gameplay with no end in sight, this could well be your game. USA TODAY - Planetwide Games was pumping the first $1 Million Grand Prize for its 'MMORPG "RYL: Path of the Emperor" massive multiplayer tournament that will begin in July and culminate with the final grouping of 60 at next year's E3.
The "RYL" qualifying tournament started on July 1, 2005 and will end April 30, 2006, culminating in a "RYL: Path of the Emperor" Grand Finals event to be broadcast live and to take place in conjunction with the E3 Video Game Expo in May 2006. Interested players can view more details about the tournament rules and regulations at http://www.RYL.net.
Planetwide Games also ties in their innovative Comic Book Creator Self-Publishing Software http://www.PlanetwideComics.com with their recent North America video game launch of "RYL: Path of the Emperor." This is the first Self-Publishing Software for Video Games tied with the Comic Book and Video Game Industries. Comic Book Creator Self-Publishing Software allows a Gamer or Comic Book Enthusiast with the opportunity to "Make their own Comics." The Consumer will soon be able to easily Self-Publish their own Comic Book Adventure Story captured and created from their Video Game Play and then print and or share it online with friends and family.
"RYL: Path of the Emperor" is a persistent universe or role-playing game (RPG).
In the game, players can choose from 20 character classes and assume the role of a Warrior, Cleric, Mage, and Assassin and then explore the many exotic locations within boundless miles of terrain and virtual real estate. In "RYL: Path of the Emperor," players meet other players in a diverse real time environment where thousands of players simultaneously compete and take part in specific quests and missions, fight monsters and other players, battle in Guild vs. Guild duels, buy, sell and trade virtual merchandise, and build fortresses. Lastly, "RYL" players have the chance to receive the ultimate gaming reward; to become the actual Emperor of "RYL," Rule over the Land and win $1,000,000.
Some of the many innovative features of "RYL: Path of the Emperor" include:
True Player vs. Player (PVP) Action
Guild vs. Guild Battles
Customized Character Creation
Quest-Based System
Compelling and Intuitive Combat System
Innovative, Customizable "Skill System"
Upgradeable and Limitless Armor and Weapons System
Build Fortresses
Persistent Universe
Thousands of Miles of Treacherous and Exotic Terrain
Virtual Real Estate Ownership
Become the Emperor and Rule the Land
About Planetwide Games
Based in Costa Mesa, CA, Planetwide Games (a Bluetorch On-Line Games, Inc. company) is establishing itself as a provider of leading online video games and interactive entertainment. Planetwide Games also develops proprietary online technology, software products, and is building a worldwide network of affiliates to distribute their games. Visit http://www.RYL.net or http://www.PlanetwideGames.com or http://www.PlanetwideComics.com
"RYL: Path of the Emperor" is currently available for online purchase and download at http://www.RYL.net for $29.99 and can also be purchased in-store or online through video game retailers throughout North America, including EB Games, GameStop, Best Buy, Wal-Mart, Target, Fry's and Amazon.com. The Monthly Subscription Fee is $9.99 or Free if gamers sign-up for the Free Monthly Online Survey participation offer at http://www.RYLSurveys.com.
Company/ Media Contact:
Mark Politi
VP Sales and Marketing
Planetwide Games
(800) 560-2993 x202
Mark@PlanetwideGames.com
# # #