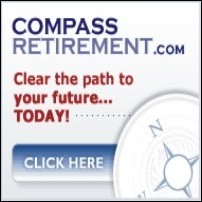 (PRWEB) August 23, 2005
Nationally respected retirement experts, Brooks Hamilton and Matthew D. Hutcheson, who are both Master Pension Fiduciaries(tm) and two of the three co-founders of the ERISA Fiduciary Guild, release the long anticipated http://www.CompassRetirement.com retirement readiness Internet application.
Never has the need for such a tool been so great. Baby boomers will start crossing the age-60 threshold next year at the rate of 7,400 a day. This is 220,000+ per month, and according to the Federal Government (agingstats.gov), nearly 40% of all retirees live in or near poverty! 40% is not okay! 10% is not okay for that matter! The mission of CompassRetirement is to help make a difference for Society.
http://www.CompassRetirement.com is considered to be one of the most sophisticated, yet easy to use and affordable retirement preparation and guidance tools ever created.
http://www.CompassRetirement.com is the result of the tireless efforts of noted pension attorney Brooks Hamilton and independent fiduciary Matthew D. Hutcheson. This project has also benefited since its inception from the invaluable wisdom and insights of Mr. Scott Burns, syndicated national financial writer. CompassRetirement was developed over a 20 year time frame, and embodies their thought, insight, elegant simplicity, meticulous attention to detail, and depth of knowledge.
"Many of us, descendants of the 'Greatest Generation,' saw our parents struggle with the financial burdens imposed by the times, which included both the Great Depression and WWII," Mr. Hamilton says. He continued by saying, "I knew as a young man that I did not want to witness my children facing the same financial dilemmas as my parents. Perhaps not entirely by chance, an entire professional life devoted to the field of employee benefits followed with much thought, energy, and passion focused on a single idea: how could a worker be made aware of her/his likely future financial well-being soon enough to afford them the opportunity to take the simple steps required in order to be financially OK when they retired? Joined by others in this quest, it has been a dream come true to witness the evolution of Compass. We all know hindsight is 20/20; Compass now allows foresight to be 20/20 also!"
Matthew D. Hutcheson stated that "CompassRetirement.com removes a significant obstacle in the retirement preparation process. Individuals who want to improve their retirement readiness need to focus on income replacement, not just the accumulation of funds. For individuals to be truly secure at retirement, they must understand important income replacement concepts. CompassRetirement.com cuts right to the heart of this matter, and solves the income replacement riddle. All workers will benefit from CompassRetirement, as it is the perfect compliment to one's existing retirement plan."
Hamilton and Hutcheson called upon the expertise of Jenna Schmidt, a Microsoft Certified Solution Developer (MCSD) and president of http://www.artifextech.com. Jenna and her team accomplished a Herculean task with precision and grace. "Artifex has poured its heart and soul into developing http://www.CompassRetirement.com. We have spared no expense and the application is the brain child of some highly intelligent creators. Artifex devoted its top complex logic programmers to the project, making the creators' visions come to reality. This was by no means an easy project, but the outcome is everything we had hoped for," says Ms. Schmidt.
Hamilton and Hutcheson expect to sell several hundred thousand http://www.CompassRetirement.com subscriptions over the next few years.
About Brooks Hamilton
Brooks Hamilton, an Attorney-at-Law and Master Pension Fiduciary™, has been a leader in the pension/retirement plan industry for over 40 years. Mr. Hamilton is an Independent Fiduciary for qualified retirement plans throughout the nation, and is often appointed Independent Fiduciary by federal courts to assume fiduciary responsibility for plans whose fiduciaries have failed in their responsibilities. He has been widely published, has appeared on CBS Evening News, CNBC, Good Day Dallas/Ft Worth, and is frequently quoted in major newspapers and financial magazines throughout the United States.
About Matthew D. Hutcheson
Mr. Hutcheson is a well known authority on fiduciary governance and compliance. Mr. Hutcheson serves, or has served as an Independent Fiduciary for retirement plans of all sizes, including those sponsored by large companies traded on the New York Stock Exchange, the NASDAQ and the Toronto Stock Exchange. He authored a text for a major University, and serves as an officer of the ERISA Fiduciary Guild and on the Honorary Board of Standards of the American Academy of Financial Management. He earned a Graduate degree in Financial Services; he is a Certified Pension Consultant (CPC) and a Master Pension Fiduciary™.
About Jenna Schmidt and Artifextech.com
Artifex Technology Consulting, Inc. provides custom ecommerce solutions and storefronts using proven, revolutionary technology. They specialize in .NET programming, ecommerce solutions, web design, graphic design and ecommerce software development. Their ecommerce storefront solutions are competitively priced and use the latest technologies. They offer the most professional technical, programming, and consulting skills to build a successful ecommerce solution. http://www.artifextech.com
# # #