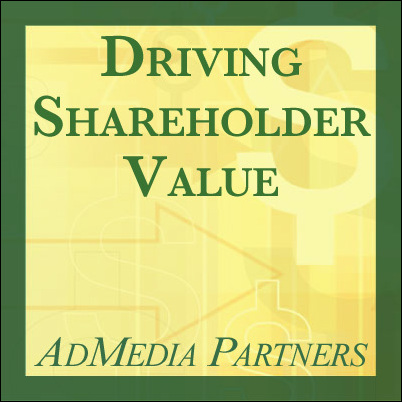 NEW YORK, (PRWEB) August 2, 2005
AdMedia Partners' business valuation expert Philip Palazzo Jr. recently authored an article entitled, "Creating Lasting Shareholder Value in Service Companies." The piece was published in Buyouts magazine, one of the leading sources for mergers and acquisition news.
In the article, (downloadable at: Driving Shareholder Value Article) Palazzo shares insights into surefire tactics for creating shareholder value and increased sellout multiples for service companies through the strategic redistribution of equity to key company management and employees. Palazzo relays stories of the surprising, and often startling, effects of owners who learn the true valuation of their business is 50 percent below what the owner had believed the business was worth.
The valuation and mergers & acquisition experts at AdMedia Partners map out strategies for service business owners which strengthen the key drivers of value which get evaluated by a prospective buyer. These key drivers include: profitability, a strong seasoned management team with a direct stake in the success of the business, and a clear succession plan.
If you are business owner seeking to understand the best approach to maximizing value in your exit strategy, beyond its M&A and traditional financial advisory services, AdMedia Partners provides counsel in relation to transfers of ownership, estates and tax issues. Its services also include expert witness representation.
To download the "Creating Lasting Shareholder Value in Service Companies" article published in Buyouts magazine visit the AdMedia Partners site at: Driving Shareholder Value Article
About AdMedia Partners, Inc.
AdMedia Partners (http://www.AdMediaPartners.com) is a leading provider of middle market mergers and acquisitions advisory services to the media, advertising and marketing services, and related interactive businesses. Founded in 1990 and located in New York City, the firm has completed over 90 transactions since 1999.
Transactions Completed by AdMedia Partners in the Month of June include:
Representing Gruner+Jahr USA in its sale of Inc. and Fast Company magazines to Mansueto Ventures LLC, a Joe Mansueto company.
Representing Dynamic Logic, the leading independent marketing research company, in its acquisition by Millward Brown, a unit of WPP Group Plc.
Representing Taylor Rafferty, an independent global investor relations and financial communications advisor, in its sale to Xinhua Finance, China's premier financial services and media company.
Representing Interweave Press in it acquisition by Aspire Media, a new entity formed by private equity firms Frontenac Company and Catalyst Investors LP.
Service Industries AdMedia Regularly Represent Include:
Marketing Communications: Advertising, Public Relations, Investor Relations, Direct Marketing, Lobbying
Interactive: Online Advertising, Search Engine Marketing, Email Marketing, Content & Website Development
Media: Magazine Properties, Newspapers, B-to-B Publications, Custom Publishers
For more information, contact:
Phil Palazzo
Managing Director, AdMedia Partners
Phone: 212-759-1870
AdMedia Partners
444 Madison Ave., 19th Floor
New York, NY 10022
# # #