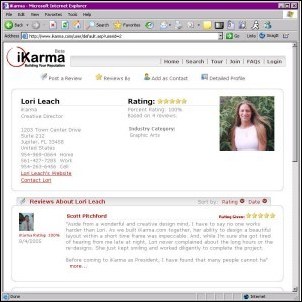 (PRWEB) August 6, 2005
For immediate release:
JUPITER, FLORIDA, iKarma Inc., today announced the public release of http://www.iKarma.com, their new online feedback and reputation system. iKarma.com brings to businesses, professionals and individuals a powerful and cost-effective means of preserving and demonstrating their business and personal reputations online.
By acting as a trusted third party recorder of customer feedback for all kinds of services, iKarma.com provides consumers who research online before making any purchase with a powerful tool for selecting quality services - while offering businesses a new and effective means of leveraging their customer goodwill with a comprehensive and easily accessible online reputation record.
"Almost every business is now online, but the anonymous nature of the Internet makes it difficult to tell the good from the bad. iKarma.com helps make a good reputation valuable again," says Scott Pitchford, President of iKarma Inc.
iKarma: The Reputation Revolution
Many experts consider online reputation management to be the key to the next major wave in e-commerce development. Online services such as eBay.com, Amazon.com and Shopping.com established their successes in recent years upon their users' ability to leave feedback regarding their buying experiences - establishing product reputation and gaining the trust of new buyers. However, while current online auction-style services are ideal when selling hard goods in limited markets, they are poorly suited for the vastly larger service and information-based commerce segment doing business online today.
With iKarma.com, millions of professionals and service businesses can now enjoy the reputation advantage: realtors and stock brokers; contractors and car dealers; artists and dentists; teachers and mechanics. From the neighborhood babysitter, to the largest corporation, anyone can build an online following with iKarma.com's carefully managed reputation and feedback engine.
A Better Way Of Doing Business Online
http://www.iKarma.com provides a civilized feedback environment for both businesses and customers. While protecting the user's right to their own opinions, the system at the same time provides user safeguards such as: built-in checks for foul language; a 48-hour delay on postings to ensure that the receiving user has time to respond; an email address verification check; a challenge-and-respond request that allows complainers to withdraw their posts; automatic deactivation of posts from unmonitored email addresses; a single post rule that prevents a single user from posting more than once per business.
http://www.iKarma.com uses a three-tiered service plan. The advertising-supported iKarma Basic plan is free of charge to users, allowing anyone to create their own iKarma Page and begin collecting personal and professional references. Users can then include a link to their iKarma reputation page - an iKarma Seal - in their emails, websites, marketing materials and correspondence.
For users who want more, iKarma offers two premium plans. iKarma Advanced offers the same feature set as the free iKarma Basic plan, but removes all advertising. The iKarma Pro plan offers an extended set of features. These features include more powerful management tools, the ability to include a greater number of references, and the option of responding to feedback comments on their iKarma Page.
"In our increasingly complex and global economy, we believe in the power of reputation systems to promote trust - online and off, locally and across all borders," says Paul Williams, CEO of iKarma Inc. "The availability of iKarma's advanced features makes this system ideal for business users, while our free basic service makes iKarma a service that anyone can use to build brand recognition and trust.
"With our free basic service available to grow our market share, and an easy upgrade path for our users, iKarma has a solid revenue model and a plan for viral growth."
About iKarma, Inc.
Based in Jupiter, Florida, iKarma Inc. specializes in providing reputation and customer feedback systems for businesses and professionals. iKarma's mission is to help create prosperity and commerce by bring greater trust and openness to business transactions. iKarma, http://www.iKarma.com, eReputation and eReputation.com are all servicemarks owned by iKarma Inc.
# # #