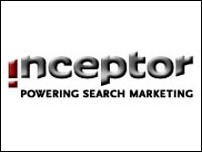 Boston, MA (PRWEB) August 8, 2005
Search engine marketing firm Inceptor today unveiled the first portfolio-based self-service pay-per-click bid management tool that automates the complex keyword bidding process. With BidCenter, any client or search engine marketing company can benefit from the full functionality of Google AdWords, Yahoo! Search Marketing, and other pay-per-click advertising programs using patent-pending, portfolio-based PPC bid management technology.
Inceptor's new BidCenter lets companies manage their own pay-per-click advertising campaigns from one central, easy-to-use Web service powered by the industry's most sophisticated PPC bid management system. The new self-service offering is based on the same award-winning keyword bidding technology that Inceptor's technologists have used for years to manage the search engine marketing campaigns of more than 5,500 customers, including Home Shopping Network, CVS.com, Lawyers.com and Vermont Country Store. BidCenter debuts at a time of explosive growth in the search engine marketing industry, which Forrester Research says will exceed $11.6 billion in spending in 2005.
BidCenter is also the first tool that provides centralized access to all the features of each bid engine from a single, simple Web console. Users can manage their PPC advertising campaigns with the full functionality that Google AdWords, Yahoo! Search Marketing, and other pay-per-click search engines offer, without having to log into each service's management console separately.
BidCenter is designed to help any client or search engine marketing company earn the highest possible returns on PPC advertising campaigns by managing and automating their keyword bidding in portfolios, much like the way people manage their investments in mutual fund portfolios. They can group together hundreds or even thousands of keywords and phrases in portfolios, then simply select from a variety of business rules that will automatically optimize their bidding decisions to achieve the desired performance.
For example, they could set a rule that instructs the system to optimize the revenue across all search engines while keeping their ROI at greater than 400 percent. Or they can avoid bidding wars by setting BidCenter to always bid the lowest required amount for a given rank position. Or they could invoke a business rule that optimizes traffic and drives the maximum amount of clicks for an average cost-per-click of $0.25.
SiteScape, a Massachusetts collaboration software company, is excited to begin using BidCenter as their tool of choice to manage and better optimize their keywords to drive qualified site visits and lead generation. "Inceptor's BidCenter will give us the ability to create campaigns around our target ROI goals. The BidCenter technology will measure the ROI and will automatically bid accordingly, saving time and money in campaign execution," said Wendy Wheeler, Senior Vice President of Marketing for SiteScape.
How BidCenter works
BidCenter transcends competitive tools using Inceptor's patent-pending "genetic algorithms" that help customers achieve the highest possible returns from their pay-per-click advertising investments. The algorithms can discern bidding patterns that may be unrecognizable by human analysis, and then adjust bids accordingly. Marketers can group together hundreds to thousands of keywords and phrases and assign any of 30 different business rules that automatically optimize their bidding decisions. For every keyword or group, BidCenter provides six different performance objectives from which they construct optimization rules that govern bidding. These performance objectives include rules for maximizing revenue, ROI, cost-per-acquisition (CPA), conversion rate, cost-per-click (CPC), or traffic.
But users aren't limited to just portfolio-based bidding. BidCenter provides four different bidding models, giving users a variety of strategies for meeting their specific business requirements. These bidding models consist of:
Standard, which uses BidCenter's automatic updating capability to manage keywords and groups to secure preferred rankings at specific cost-per-clicks;
Power, which increases revenue and conversions with ROI-driven business rules, and focuses bidding on high-return customer bidding zones;
Advanced, which provides an exact replica of the bidding controls of each bid engine, allowing users to tap into all the advanced features of each engine from a central console; and
Portfolio, which optimizes entire campaigns automatically to save time while achieving the best possible return from users' marketing budgets, based on user-defined business rules.
"The challenge of optimizing search engine marketing investments grows exponentially with every new keyword, phrase, search engine and rule added to a campaign. It's like playing hundreds of games of chess all at once," said Mike Sack, Inceptor's chief technology officer.
"That's why search marketers need scalable, powerful bid modeling algorithms to ensure they squeeze every ounce of value from their pay-per-click investments. BidCenter uses cutting-edge patent pending technology to achieve these business goals, but in a surprisingly easy-to-use self-service format that gives them great control over their own bidding destiny."
Pricing and Availability
BidCenter is available immediately with pricing based on the number of keywords under management, the quantity of search engines they are managed on, the number of bid updates per day and the overall traffic generated. Packages start as low as $49.95 per month. Inceptor will offer a one-month trial for free. To take advantage of this free offer, click http://search-pr.inceptor.com/bidcenter_page and get started today.
About Inceptor
Inceptor is a leading search engine marketing firm founded in 1999. The privately held company has developed a patent-pending, proprietary pay-per-click bid management system that automatically optimizes the keyword bidding process based on desired performance objectives. Based in the Boston area, Inceptor has 45 employees and more than 5,500 customers including Home Shopping Network, Lawyers.com, CVS.com, Christianbook.com, and UPromise. Find us on the web at http://search-pr.inceptor.com/inceptor_homepage.
###