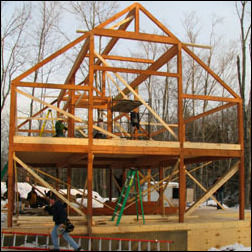 (PRWEB) August 7, 2005
In many parts of the country, icy winter conditions and below zero temperatures bring home construction crews to a cold halt. But that's not the case here in New England, where the indomitable Yankee spirit is alive and well in the construction of a new post and beam house in the dead of last year's brutal winter.
Yankee Barn Homes of Grantham, NH, and Millstream Structures of Newport, NH are featured braving the elements in a two-part series airing on the DIY Network's Assembly Required TV show on August 14, 2005 and August 21 at 2 pm as they rush to frame and enclose a post and beam barn-style home in five very cold days.
In this first of two episodes, the crew from Millstream Structures battles the elements with a post and beam kit from Yankee Barn homes, a young family decides if prefab is the way to go for their Vermont home, and builders who specialize in post and beam construction explain how they overcome challenges to stay on schedule. In the second episode, the crew continues their struggle against inclement weather as the family pushes forward to complete their post and beam home before ski season.
The DIY Network is owned by the Scripps Network and features cable programming for do-it-yourself projects, including home building; home improvement and woodworking.
About Yankee Barn Homes
Yankee Barn Homes manufactures award-winning custom post and beam barn-style homes at their factory in Grantham, NH which are then shipped and built worldwide. At the most recent HBRANH awards ceremony, seven Yankee Barn homes were recognized for excellence including two gold medals, three silver medals, and two bronze medal winners.
Contact: Amanda Gillen
1-800-258-9786
Photos are available on request.
###