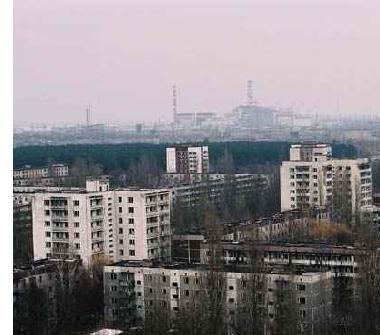 (PRWEB) August 10, 2005
"Dangers from nuclear proliferation extend far beyond missiles and warheads. Cheap dirty bombs can be made with little more than a private aircraft or a helium filled balloon and radioactive wastes from nuclear power plants.
Radioactive dirty bombs can disable entire cities transforming them into Chernobyl-like ghost towns for centuries and rendering their suburbs into toxic wastelands." said author, engineer and scientist, Roy McAlister, Co-President of Cleanpeace.org and a world authority on energy.
The Energy Policy Act signed into law this week commits $13 billion to expand construction of new nuclear power plants including equipment to produce hydrogen from them. It provides economic support and regulatory relief for their construction as well as operating subsidies. It also accelerates nuclear research and development. The Act virtually ignores the dangers of nuclear waste proliferation.
McAlister continued, "Radioactive wastes can come from a safe reactor or an unsafe design like Chernobyl. All that's needed to make a Chernobyl scale ghost town is a way to disburse radioactive wastes on a targeted city. Already dangerous radioactive wastes are missing from U.S. nuclear reactors."
The huge taxpayer subsidies and unfair policy advantages heaped on depletable coal, oil, gas and radioactive nuclear fuels under the new Energy Act severely hobble competition from safe, abundant, undepletable energy resources assuring the nuclear industry clear competition-free access to fill the rapidly growing oil gap with nuclear hydrogen as oil and other fuels deplete.
"The new Energy Policy Act is the Administration's domestic anti-competitive equivalent of the OPEC cartel and a plethora of unfair trade practices wrapped-up in one radioactive, oil soaked package. said Bill Garrett, Co-President of Cleanpeace.
Garrett Continued "If government funding and policy advantages were equally distributed between depletable fuels and undepletable fuels, the nuclear industry would be obsolete and abundant, clean, undepletable fuels could compete on price with depletable gas, coal and oil in transportation, utility and agricultural markets via hydrogen produced from undepletable solar, wind, wave and biomass energy."
"The Energy Laws stacks the deck against abundant, undepletable, energy and that stacks the deck against America." said Garrett.
Radioactive spent fuel rods have been missing or misplaced from at least 3 nuclear power plants in recent years: the Millstone I nuclear reactor in Waterford, CT, the Vermont Yankee reactor in Vernon, VT and the Humboldt Bay Power reactor near Eureka, CA. Missing rods and other radioactive wastes could come into the hands of terrorists.
Expansion of U S nuclear power and radioactive waste production at a time when the U.S. and our allies are engaged in negotiations to persuade Iran and North Korea to limit their nuclear energy activities, is a slap in the face to good faith bargaining. It provides a propaganda gift to these two nations and threatens to undermine the success of these stalled talks further jeopardizing U.S. national security.
"The new Energy Act also subsidizes more rapid depletion of dwindling U.S. oil resources. Subsidized production means faster depletion and a dangerous increase in dependence on Middle East oil, the dictators who control it, and the radical terrorists who influence them." said McAlister.
Oil dependent democracies like the U.S., Canada, and the EU nations have the most at stake. Their demand for oil continues increasing exponentially and their oil extraction rates and reserves continue declining more rapidly than the much larger reserves of the Persian Gulf nations and the OPEC cartel.
The new Energy Act all but guarantees America's continued, dangerous dependence on Middle East oil. The U.S. holds between 2 and 3% of world oil reserves, the Persian Gulf nations hold 50% and the Middle East dominated OPEC cartel controls 61%. Middle East dictators have oil staying power; the U. S. and Western democracies do not. This dependence and its potential to interrupt U. S. oil supplies endangers our national security
The U S now imports 60% of its oil requirements and becomes more reliant on Middle East supplies each day as it consumes another 21 million barrels of oil.
"Earth collects more energy from the sun in one day than all the fossil oil that ever existed. Nature provides vast amounts of this solar energy including wind, wave action, falling water, and biomass. These resources can be harnessed with adaptations of safe conventional technology." said McAlister, noting that virtually all forms of solar energy can be used to produce hydrogen and fuel America's existing utility, industrial, transportation and agricultural engines without pollution.
McAlister said, "The Energy Policy Act amounts to little more than a multi-billion dollar giveaway to giant depletable fossil and radioactive energy corporations. It puts taxpayer money in the wrong place, at the wrong time, for the wrong reasons. It continues short-changing abundant, domestic solar resources and it fails to equalize subsidies and policy advantages between depletable energy and clean undepletable energy."
"The President sent an energy message to America's friends and foes that the United States has surrendered its energy future to those who hold the oil and provided inadequate untimely and dangerous alternatives to fill the rapidly widening oil gap. He should have issued a Declaration of Energy Independence and set an undepletable energy policy to back it up." said Garrett.
For more information visit http://www.cleanpeace.org
# # #