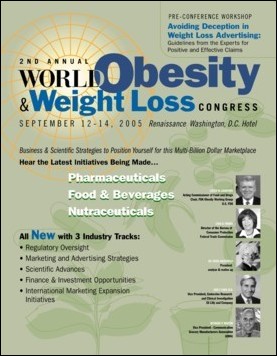 (PRWEB) August 11, 2005
Demand for more information on products and services addressing the country's growing obesity epidemic has prompted the organizers to open its sessions to healthcare providers and payors. Primary Care providers and healthcare executives wishing to attend the event may contact the organizer to determine their eligibility for the discounted rate of $995.00. Academic Researchers receive the discounted rate of $1295.00.
Also Being Expanded is the Regulatory Session on: U.S. Guidelines, Red Flags and Advertising Trends...
A 2004 FTC staff report showed that the number of advertisements making obviously false weight-loss claims fell to just 15 percent in 2004, but the problem still remains. This expanded session will help companies understand the guidelines, red flags and advertising trends for weight-loss products. Companies seeking ways to navigate the difficult regulatory waters cannot afford to miss this presentation. The session will be presented in a lively, roundtable format with a panel of industry, science, regulatory and legal experts.
Facilitator
Shane H. Freedman, Esq., Latham & Watkins, LLP
Roundtable Participants:
Richard Cleland, Esq., Assistant Director of Advertising Practices, Federal Trade Commission
Richard Atkinson, M.D., Editor-in-Chief, International Journal of Obesity
Douglas S. Kalman MS, RD, FACN, Director, Miami Research Associates, Nutrition and Endocrinology Division
Edward W. Correia, Esq., Latham & Watkins, LLP
Former Special Counsel to President Clinton
Anthony L. Almada, BSc, MSc, Founder, President, and Chief Scientific Officer, IMAGINutrition, Inc. and MetaResponse Sciences
# # #