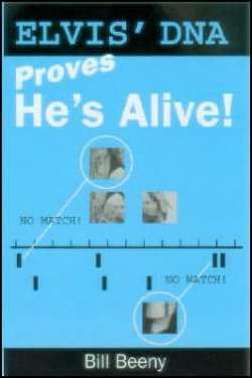 (PRWEB) August 12, 2005
Dr. Bill Beeny of St. Louis, Mo., and a medical doctor from Memphis, Tenn., have taken biopsy tissue from Elvis in 1973 and 1975, and compared it to the tissue from the cadaver reported to be Elvis.
The conclusive lab results show that the Elvis DNA tissue from 1973 and 1975 does not match the body in the casket. Finally there is proof that Elvis did not die!
These shocking findings have been compiled into the new book, "Elvis' DNA, Proves He's Alive" written by Dr. Bill Beeny and Phil Aitcheson who headed up the Presley Commission. Besides the DNA results, the book also answers many questions such as:
Why did Elvis fake his death?
How did Elvis fake his death?
Did his family know?
Was the F.B.I involved?
Who was in the casket?
Why did his family have his autopsy sealed by the court until 2025?
Why didn't his family collect on his life insurance policy?
Did the Memphis Mafia know what was going on?
While Elvis fans flock to Memphis, Tenn., to hold candlelight vigils and shed tears on the anniversary of his death, Dr. Bill Beeny and other fans will be celebrating with jubilation over the DNA results. The "Elvis is Alive" Party will begin at 6 p.m. on Aug. 16, 2005, at the Barnes and Noble in West Melbourne, Florida. It will be covered with a live broadcast hosted by Jackie McCoy and Susan Ramon from "What's Happening Brevard" on http://www.tropicwaveradio.net.
If you believe Elvis died on Aug. 16th, 1977, come to the party and learn that his death was really a well-coordinated pre-planned hoax! Ask questions and get answers from the author and researcher himself. Jackie and Susan will introduce Dr. Bill Beeny, ask Elvis Trivia and give away copies of the "Elvis' DNA, Proves He's Alive" book. There will also be the opportunity to win the exclusive limited edition Elvis is Alive t-shirts that were designed by the hot new graphics company V V Designs (http://www.vvdesigns.com).
The West Melbourne Barnes & Noble (http://www.barnesandnoble.com) will have complimentary snacks and beverages that were reported to be Elvis' favorite, and Champion Roller-Skating Elvis Impersonator Joey Rodriquez will perform throughout the evening. Right before the book signing at 7 p.m., enjoy some custom made Elvis Cake created by Cindy at Countryside Confections.
Join in on the fun and excitement of the "Elvis is Alive" Party and book signing only at Barnes & Noble located at 1955 West New Haven Avenue, West Melbourne, Fla. Tuesday, Aug. 16 from 6 p.m. until Beeny has left the building.
About Us:
http://www.tropicwaveradio.net is an up and coming online radio station. The show "What's Happening Brevard" hosted by Jackie McCoy and Susan Ramon launched on April 18, 2005, and has already gained international listeners.
Jackie McCoy and her partner Mad Maynard currently have the longest running Oldie's Show in the nation (25 years) called The Original Sunday Night Oldies Show. It is held in St. Louis at The Dorsett Inn every Sunday night and at JP's Corner every Wednesday night. You can also catch Jackie on KEZK in St. Louis hosting the show "Pillow Talk" every Saturday evening.
Susan Ramon was a Disc Jockey in the mid 80's with Jackie McCoy and left radio to pursue her career in the horse business. An opportunity to re-enter the radio business with Tropic Wave Radio was offered in March and she jumped at the chance to work with Jackie again.
###