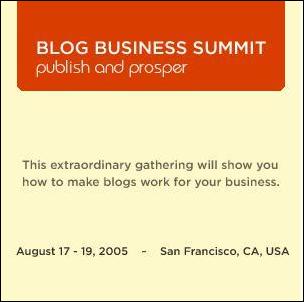 Sunnyvale, CA (PRWEB) August 11, 2005
Blog posting is extremely important to Bloggers, so important that they attend conventions dedicated to it. AnchorFree Wireless has announced that it will provide free Wi-Fi Internet access to attendees of the Blog Business Summit in San Francisco. Between August 17 and August 19, Bloggers and Internet enthusiasts will converge at the Summit to learn about monetizing Blogs and the business of blogging.
"The blogging community demands constant access to their sites", said Steve Broback, Founder of the Blog Business Summit. "AnchorFree's fast, free Wi-Fi will be a great addition to our gathering.
"AnchorFree is delighted to equip Bloggers with free Wi-Fi Internet access during the Blog Business Summit", Said David Gorodyansky, President of AnchorFree. "Attendees who choose to sightsee will be pleased to know that free wireless access is available in 5 popular areas of San Francisco on a permanent basis."
The Blog Businesses Summit is intended for bloggers, and marketing professionals to learn more about the business of blogging. This event will show focus on how business professionals can leverage current real-world blogging techniques, tools and platforms to promote and enhance their ventures. Organizers expect several hundred people to access free Wi-Fi Internet simultaneously. For further information about the Blog Business Summit, please visit http://www.blogbusinesssummit.com
Year round AnchorFree provides free Wi-Fi Hotzone access indoors and outdoors along the commercial portions of the following areas in San Francisco: Cow Hollow, The Castro, Marina District, Pacific Heights and Union Square. For further information, please visit http://www.anchorfree.com/locations.html
Members of the media can apply for press credentials at the Blog Business Summit by e-mailing press(at)blogbusinesssummit.com
About AnchorFree:
Sunnyvale, CA based AnchorFree was founded in 2003 with the vision to move beyond the paid wireless Internet (Wi-Fi) access model and provide consumers with free widespread Internet access. Today, AnchorFree provides free Wi-Fi access indoors and outdoors in San Francisco and Palo Alto in popular commercial shopping districts. Consumers have access to 6 Wi-Fi Hotzones that include over 400 restaurants, shops, and cafes.
About the Blog Business Summit:
The Blog Business Summit brings expert bloggers together with entrepreneurial and corporate businesspeople for workshops on how to leverage the blogging platform for profit, collaborative, and public relations benefits.
Press Contacts:
Denis Hiller, Communications Director
AnchorFree Wireless
(650) 669-2772
denis(at)anchorfree.com
Kim Larsen,
Blog Business Summit
kim(at)blogbusinesssummit.com
# # #