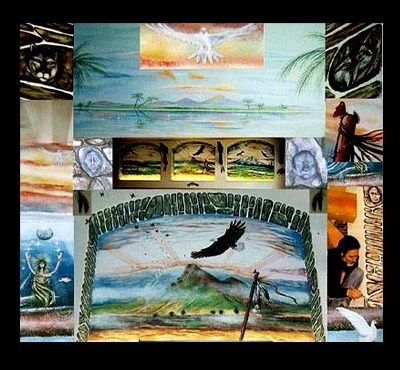 (PRWEB) August 15, 2005
In 1998, after completing the draft for his manuscript, Dutch-born American artist Peter Teekamp spent the next several years traveling and dotting the map with murals from Israel to India, America to Amsterdam. Starting with Hollister, California, and completing the circle at The Lodge in Corning, California, in 2005.
Teekamp calls it an honor to have left his signature murals filled with positive symbolism on walls from a 500-year-old temple in Varanasi on the Ganges to the brand new lodge walls adorned with scenes of Gauguin's Tahitian paradise. Corning, California, is the latest addition to a masterpiece collection that includes; the local history of "The Wild Ones" in small town Hollister, California; a block long "History of America" mural in Spearfish, South Dakota; inside, outside and wall-to-wall Teekamp symbolism honoring all religions on the Gordon Hostel in Israel and concludes with scenes of Gauguin's paradise, hidden faces and other signatures both Teekamp and Gauguin's art is known for.
During these travels Teekamp also ended up as an extra in several movies. The first was "The Body" with Antonio Banderas where he walked in a background scene as an Apostle, then as part of the cast alongside film legends Charlton Heston and Jean Claude Van Dam. One starring moment of his own is a scene where he is blessing the fire at the Wailing Wall for the Museum of Jerusalem. There is also a BBC documentary that shows Teekamp playing an Apostle for a second time.
The Lodge in Corning is Teekamp's largest indoor mural and blends peace doves and palm trees with dreamcatchers and medicine wheels. In the lobby, the two-story walls are filled with soaring eagles and landmarks of sacred sites in tribute to the local homeland of the Paskenta Band of Nomlaki Indians. The Indian Spirit has been a favorite theme in Teekamp's walls and canvases for more than thirty years. Inside the pool area the owner told him the theme was paradise. Teekamp's association with the French artist Gauguin enhanced his vision of the island oasis he recreated on the walls.
The Teekamp-Gauguin connection drew its most dramatic conclusion in Bremerton, Washington in 2003, when Teekamp stumbled into and subsequently purchased an original century-old Gauguin charcoal drawing. A depiction of Teekamp's discovery can be seen in full color on the Lodge walls. This event was not the first connection to Gauguin but rather a dramatic crescendo to a lifetime filled with coincidences involving the life and art of the controversial Gauguin.
Teekamp is seeking a publisher for the journal of his life and art. The book will share more of the history that he's left behind as storyboards around the world. A quote from a Rapid City Journal article ("The World is his Gallery" Nov. 3, 2002) "Some people take pictures when they travel, Peter Teekamp leaves pictures behind."
When asked where he now considers home, the 55 year-old Teekamp says with a smile "Home is where you are and that's where you paint."
For more information, please see:
MuralsbyPeter.com
PeterTeekamp.com
eBay.com "Teekamp Spirit Art Gallery"
# # #