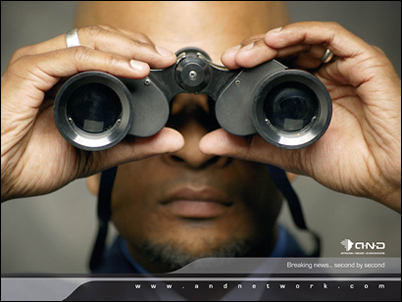 South Africa (PRWEB) August 17, 2005
"African Journalism is receiving well deserved attention these days and the launch of the African multi cultural website andnetwork.com is part of a chronicle of events working in the continents favor," said CEO African News Dimension the publishers of andnetwork Ralston E. Smith.
Andnetwork has extended an open invitation to all media professionals on the African continent to log onto the website and register as a Journalist during their trial period in the month of August. Their full service launch is scheduled for September 01, 2005 mid-night Central African Time (CAT), which translates to 6 p.m. August 31, 2005 Eastern Standard Time and 3 p.m. Pacific Standard Time.
Andnetwork is Africa's first single authentic channel to embrace the continents 54 countries and islands all in one domain. Understanding and appreciating the diversity of African languages and culture is the key to success for Andnetwork as a leading African news content provider. Andnetwork translates the African story into an exportable package through the eyes of local journalists.
Most multinational news agencies that have some presence in Africa find it much easier to carry stories from Southern Africa and other English speaking countries like Nigeria, Uganda and Kenya but find it more difficult to get accurate coverage from the other parts of Africa.
The benefits of being a member of andnetwork as a contributor stretch far beyond the cash remuneration that is received by a journalist contributor. An example could be: a story that shares the African experience and makes Africa more popular as a continent that is rich in minerals and clear sandy beaches. "Yes, it is true that the continent is often troubled by wars and famine but the time has come to balance the news coverage on Africa," said CEO Ralston E. Smith.
Andnetwork is an online service that has been developed for Freelance Journalists and News Organizations on the African Continent to enable them to own and earn additional revenue from their work. Content on andnetwork includes live video, audio, pictures and text in all categories from all parts of Africa.
Contact:
Ralston E. Smith
+2711 467 5885
breakingnews@andnetwork.com
# # #