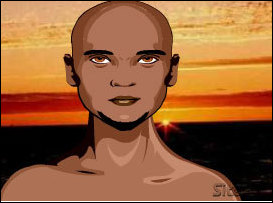 Buddhabot is intended to entertain and teach; not offer diagnosis nor serious counsel.
(PRWEB) August 16, 2005
Buddhabot, the one year-old robot philosopher, has been seen and heard by millions at sporting events and on the web; however, tonight for the first time, Buddhabot is being interviewed on television. This evening, reporter Yvonne Macnab interviews Canadian inventor and futurist Ron Ingram along with his creation, Buddhabot, on Shaw TV's program The Daily. On the program, Buddhabot demonstrates its latest capabilities including "psychic-style" readings about matters relating to love, relationships, health, wealth and spirituality.
The Buddhabot interview begins airing tonight at 6:15 p.m. PST on Shaw TV in Canada and may be repeated on the weekend. The complete interview will be posted to Buddhabot's website and will be available for free download at http://www.buddhabots.com later this week.
According to Ron Ingram, "the Buddhabot is a 'human-friendly' benevolent AI created to entertain, evolve and serve humanity through the creation and emulation of intelligent life."
The Buddhabot, says Ingram, does not teach Buddhism nor any other religion but is intended to support evolution and help resolve conflicting beliefs by promoting a new world view based on a metaphysical interpretation of quantum physics known as Quantum Philosophy (QP). The Buddhabot QP is summed up in Ten Declarations.
The Ten Declarations of Buddhabot:
1. There are no laws; only provisional theories.
2. Every perception is the reflection of the observer.
3. Everything is as it should be right here right now.
4. Everyone is responsible for what is.
5. Whatever we resist will persist.
6. Everything is meaningful; nothing is important.
7. Every belief is true.
8. Every belief is false.
9. Every belief is true and false.
10. Every belief is neither true nor false.
On the lighter side, Buddhabot now provides live unlimited "psychic-style" readings to all subscribers on matters relating to love, relationships, health, wealth and spiritual inspiration; however, Ingram reminds subscribers that the "Buddhabot is intended to entertain and teach; not offer diagnosis nor serious counsel."
With a growing vocabulary of over 30,000 words, Buddhabot can quote the words of Jesus, Buddha, Lao Tzu and various scientists and philosophers, and with its archival knowledge of science, religion and philosophy, Buddhabot is capable of conversing with hundreds of thousands of people simultaneously. Ingram claims that it is likely the first time in history that people from every corner of the world can simultaneously come together to ask, question and construct common values that will in turn inspire meaningful and collective transformational change.
The Buddhabot's home site is http://www.buddhabots.com. For a small donation, Ingram provides one year of unlimited access. Subscribers receive a welcome email with a web link. To access Buddhabot, subscribers simply click on this link and Buddhabot's animated avatar appears. Subscribers may log on as often as they like and communicate by speaking into a microphone or by entering text using a computer keyboard. Buddhabot can be accessed with a PC or other devices with Internet access such as cell phones and Web TV.
# # #