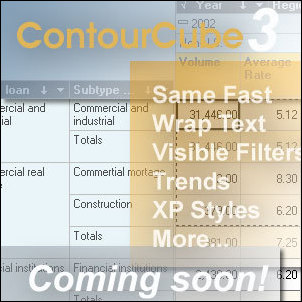 (PRWEB) August 17, 2005
Business Intelligence software vendor Contour Components Ltd announces new version of its high-performance OLAP component for interactive reporting and multidimensional data analysis in business applications – ContourCube 3.0. In addition to the well-known ActiveX and VCL for Borland C++ Builder, this version is also available as a .NET assembly compatible with Microsoft Visual Studio 2003 & 2005.
ContourCube.NET is intended for .NET developers to embed rich Business Intelligence functionality into database applications. At the same time, the ContourCube.NET assembly kept the outstanding performance of the native component engine.
Contour Components' representatives claim ContourCube 3 keeps tending to improve business-oriented functionality for OLAP applications in various areas, departments and business processes. Thus, the upcoming version provides wrapping data in wide reports, enhanced operations on date fields for easier trending and cumulative calculations, adaptive XP- and web-oriented appearance design and user friendly interface.
Field testing of the new software version will be entrusted to the customers selected by Contour Components. ContourCube 3.0 is expected to be available on the worldwide market in the current year.
About ContourCube
ContourCube is a high-performance OLAP component for interactive reporting and data analysis. It offers embeddable OLAP technology for Windows and web applications based on relational data. Application powered with ContourCube allows users to create numerous nice-formed screen and printable reports in a minute. User can interact with data: slice and dice, drill down and roll up, pivot with sub-second response times and without additional server.
ContourCube is presented on the worldwide market since 2001 and conquered customers in over 50 countries, including such ones as Urban Science, Fidelity Investments, Siemens, as well as a number of software companies. This brings rich customer feedback, allowed to provide high product quality and outstanding performance, proved with leading corporations and enrich its business functionality.
About Contour Components Limited
Contour Components is a private British company. It offers Contour Business Intelligence platform for developers and end users. Contour software and technologies are based on over 10 years extensive expertise of its team in writing Business Intelligence solutions for banks, enterprises, state organizations and software developers. Thousands of people in over 50 countries analyze data with Contour BI. Contour BI products are used in such widely-known companies as Fidelity Investments, Verizon Wireless, Commerzbank, JPMorgan Chase, NEC, Pfizer.
Home page of Contour Components Ltd: http://www.contourcomponents.com
# # #