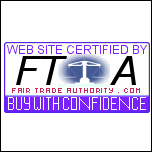 (PRWEB) August 17, 2005
(PRWEB) August 17, 2005 – Online stores and consumers seeking consumer fraud protection and guarantees against defamation or identity theft can now turn to Fair Trade Authority. The new website, promises to offer piece of mind to merchants and their customers through a certified code of conduct, and protections for identity and from scams.
Internet commerce grows every year. Yet it's still susceptible to frauds, scams, and bitter disputes. Consider the damage to your online store that even one unsatisfied customer can do to your business, just by posting inaccurate, even potentially libelous information in forums and on bulletin boards. As yet, there has been no acceptable source of consumer fraud protection for internet transactions. Fair Trade Authority fills the gap.
Fair Trade Authority offers a simple, elegant solution to the many pitfalls of doing business on the internet for both patrons and for online stores. The site offers a set of protections for both parties to an online transaction.
A code of ethics validates both buyers and sellers, ensuring both can ensure commerce proceeds without a snag. "We believe that inaugurating a code of ethics for both parties and giving them mutual and equal protection is the only way to isolate scammers," said Fabio Salvadori, chairman of Fair Trade Authority.
Customers can be confident that subscribing online stores agree to 15 distinct points, ensuring goods and customer service are conducted at the highest possible level. Sellers make accurate claims about their products, offer real conduct information, answer inquiries and fulfill promises quickly and accurately, stand behind their goods and offer underwriting services.
Participating sellers earn a seal, which they can prominently display on their web site. Registered companies offer buyers a $300 insurance policy on transactions.
What's truly revolutionary, however, is the way Fair Trade Authority extends a code of conduct for customer adherence. A key point behind the site's novel business plan is that commerce proceeds only when both parties uphold their side of the sales agreement in an honest, transparent manner.
Buyers agree to read all material on a merchant web site before buying, to never defame a seller online or elsewhere and to work proactively with vendors by giving them adequate time and information to resolve disputes.
The system works. Early registrants have seen sales jump by as much as 400 percent, are protected from having their businesses ruined by rampant libel, can outsource some customer service functions and mediation to Fair Trade Authority. As important is instant access to their customer blacklist, a record of customers who are legitimate scammers.
Visit Fair Trade Authority and see how to register for their long list of superior support and service for both online stores and their customers. By providing much needed services, such as identity verification, privacy guards, consumer fraud protection and dispute resolution, Fair Trade Authority promises to aid in the further astronomical growth of Internet commerce by ensuring that transactions are problem-free.
Contact:
Fair Trade Authority
84 Silvermere Road
SE6 4QS - London
United Kingdom
Tel. +44 (0) 20 8690 8258
# # #