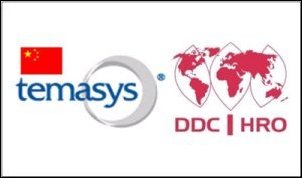 New York, NY (PRWEB) August 18, 2005
DDC HRO (http://www.ddchro.com) a leading global provider and enabler of HR outsourcing, data processing and human capital BPO solutions, and Singapore and Shenzhen based Temasys International (http://www.temasys.com.sg) a leading provider of consulting services for companies wishing to access the China marketplace today announced their agreement for joint marketing, sales, and deployment of global Business Process Outsourcing (BPO) Solutions with China Motion Telecare. China Motion Telecare Company Limited is a subsidiary of China Motion Telecom Holdings Limited and it is the #1 provider of outsourced Call Center, Contact Center, CRM and HR services in China (http://www.china-motion.com).
The ground-breaking agreement provides for collaborative market representation, analysis and joint sales activity with particular focus on the deployment of Chinese-language and other language support services for customers, companies, and employee audiences in US and European Financial Services, Telecommunications, IT and Retail sectors – and for the further development and deployment of the parties' combined human capital BPO and contact center services & solutions for both east and western marketplaces.
The management teams of DDC HRO and Temasys are uniquely positioned to assist China Motion Telecare with advisory, marketing & sales support – drawing on extensive market analysis and established business development channels in support of China Motion Telecare's expansion into western markets. Equally, the Alliance with China Motion Telecare allows DDC HRO to expand its global Alliance footprint, allowing clients to benefit from a pre-qualified network of human capital BPO solutions providers. DDC HRO will adopt China Motion Telecare's HR Solutions and work with China Motion Telecarein the further advancement and commercial leverage of this capability.
China Motion Telecare's addition to the DDC HRO global network of BPO Alliance Partners will provide a powerful, market-leading opportunity for western companies, specifically clients of DDC HRO and Temasys, to access Chinese BPO capabilities provided by one of the most widely respected and leading providers in Asia. With eight years' experience in call center outsourcing service, China Motion Telecare has five call centers and over 4000 operators across China; it holds licenses to operate in the whole of China and is the largest outsourcing organization which provides national call center coverage in China. Its state of the art infrastructure is utilized to service Chinese and International clients and it has been increasingly looking to expand its international operations beyond current call center services and HR services into the US market, targeted to Chinese-speaking consumers.
Ms Ling Mengbo, General Manager of China Motion Telecare said "This is a natural step in our development as a global company; we have already established ourselves as a significant Chinese Service Provider of Call Center, CRM, and HR Services and now we believe we are ready to provide a high quality service to International Companies. We are pleased to work with Temasys and DDC-HRO as they bring a wealth of experience. Together we believe we can work steadily and progressively to provide outstanding value across many sectors."
Says David Kinnear, CEO of DDC HRO: "At DDC HRO we try to make the world just a little smaller and a little less complicated for our clients every day. As a global organization ourselves, we have long recognized the vast untapped potential in China to provide outsourced services to the western market – and the role that the right partner in China would play in our longer term strategy for helping clients around the world. We believe that the emergence of the China Outsourcing Industry demarks the forefront of a global phenomenon that will change the outsourcing landscape in numerous verticals and service sectors. Working with our friends and colleagues at Temasys in the execution of our joint US-China strategy, so too we identified an opportunity to work with friends and colleagues in China also. This agreement is the culmination of much careful consideration and it evidences our commitment to global leadership in the BPO space. We are delighted to be working alongsideChina Motion Telecare in this remarkable undertaking."
Bill Lewis, Managing Director of Temasys International, says "Not only is China demonstrating spectacular economic growth, year on year, it is also developing world class capability in virtually all sectors. The appearance of a portfolio of World Class Outsourcing Providers in the Service Industries is just another step in China's evolution. While many concerns have been expressed by experts about capabilities, we see these as being dealt with by very positive and affirmative action by regulators, and by Companies themselves. China Motion is a proud company and one which provides outstanding service. We are privileged to be working with them and we see this has a partnership that will have a long and fruitful life."
About Temasys
Temasys is a consulting and advisory company, which helps Chinese IT and BPO Services companies, and Chinese Economic Cooperation Bureaus, prepare for and access global markets Temasys helps Western clients design and execute their China strategy to take knowledge, technology, services, and products to the China market. Temasys also helps western clients lever the opportunities in China, creating Chinese originating ITO and BPO services for the global markets.
Learn more about Temasys International at http://www.temasys.com.sg
About DDC HRO
DDC HRO is a member of the DDC Group – a privately held portfolio of companies, providing human capital BPO solutions and data processing solutions for forward-thinking companies and organizations worldwide. With a growing multi-disciplinary staff (primarily in DDC's client support centers in the Philippines), DDC is a leading provider of comprehensive onshore and offshore business process outsourcing services, combined with mission-critical technology solutions, strategic consulting and onshore relationship management.
Learn more about DDC HRO and the DDC Group of Companies at http://www.ddchro.com
About China Motion Telecare
China Motion Telecare Company Limited is a wholly owned subsidiary of China Motion Telecom Holdings Ltd. With eight years experience it has become the number one national CRM, outsourcing Call Center, and BPO Operator in China. It operates five centers in China; it is call center licensed for the whole of China and serves a domestic and international markets. It has an impressive list of Blue Chip clients in the Telecom, Financial, Insurance, Consumer, and Automobile Sectors.
Learn more about China Motion Telecare at http://www.china-motion.com
For further information, please contact:
Temasys International Singapore / China -- Mindy Tan +65 9436 6333 / + 65 6866 3636
DDC HRO - US / APAC / EMEA -- Peter Holland: (+1) 631-547-5500
DDC HRO - UK -- Ann Forde-Johnston: (+44) 1704-551134
China Motion Telecare – PRC-- Jiang Songhua(+86)755-82189933
# # #