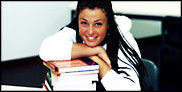 Victoria, BC (PRWEB) August 18, 2005
America's students will show their distain for highly priced textbooks by going online and purchasing discounted and used textbooks in record numbers during the current back-to-school season, according to Abebooks.com – the world's largest online marketplace for books.
Abebooks.com expects to sell more academic books in August and September than any previous back-to-school season as increasing numbers of cash-strapped students turn to Internet booksellers. In January and February 2005, the website saw textbook sales increase by 400 percent on 12 months earlier, and that trend is set to continue.
List prices for new textbooks often exceed $100 and students studying medicine, engineering, the sciences and niche subjects are confronted with price-tags over $150. According to a report* from the Government Accountability Office released Aug. 16, textbook prices have increased at twice the rate of inflation in the past two decades and the average student spends almost $900 on textbooks and supplies.
Abebooks.com offers millions of new and used textbooks, and its average used textbook price is $27.
A common title such as Organic Chemistry by TW Graham Solomons and Craig Fryhle (July 2003 edition) has a list price of $141, yet used copies of the exact same edition are offered for $89 on Abebooks.com, which also has used older editions for $1.
Abebooks.com has a dedicated section called "Textbook Central" to help students find their books easily and quickly. It also includes a buy-back program where students can sell their books to recoup funds, as well as contests to win a Tablet PC, gift certificates for posters, CDs and iPods.
"Previously students had no choice but to purchase their textbooks at list prices from their own campus stores or large local bookstores," said Sue Connors, Abebooks director of bookseller community. "In the last 18 months, the Internet has dramatically changed that situation and now price-conscious students can choose between new and used editions at cheaper prices by simply spending a few minutes online."
About Abebooks.com:
Abebooks.com is the world's largest online marketplace for books, with over 70 million new, used, rare, and out-of-print titles listed for sale by more than 13,000 independent booksellers from around the world. Abebooks has millions of registered customers who collectively purchase more than 25,000 books a day from its five global websites (Abebooks.com, Abebooks.co.uk, Abebooks.de, Abebooks.fr and Iberlibro.com). A true internet success story, Abebooks.com has been selling books online since 1996, and is a private company based in Victoria, B.C., Canada, with offices in Germany and Spain.
Contacts:
Richard Davies, PR & Publicity Mgr., Abebooks
Office Ph: 250-412-3238
*Published by the Government Accountability Office
http://www.gao.gov/docsearch/repandtest.html
###