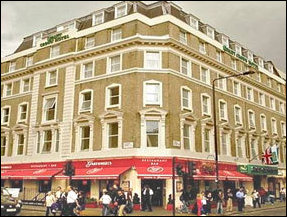 (PRWEB) August 20, 2005
Located moments from Paddington Station and the Heathrow Express, Quality Crown Hotel Paddington opened on Aug. 9, 2005. The hotel had been closed for 10 months to enable a £2.5 million refurbishment to create a designer-style hotel in this very important location next to the Hilton Paddington.
Already highly praised by guests, the Quality Crown Hotel offers a four-star standard, designer style at an affordable price and provides a standard of accommodation and service that is not available in the vicinity of Paddington Station.
The 85-room Quality Crown Hotel is designed in a modern contemporary style and includes features such as air conditioning, large flat screen TVs with on-demand movies and CDs and high speed Internet in every room.
Garfunkel's Restaurant has also been refurbished in the same style and integrated within the hotel to provide meals and snacks to hotel guests throughout the day, from breakfast until late.
The Gallery Lounge and Bar has been created as a really comfortable area to relax and includes a 42-inch (105cm) plasma TV featuring Sky Sports, so that guests can keep in touch with what is happening.
An atrium-style Executive Lounge and a Fitness Centre equipped with state-of-the-art equipment have also been created. Additionally, there are two superbly furnished conference rooms for up to 12 delegates, each with a 42-inch (105cm) plasma screen for presentations.
Quality Crown Hotel is one minute from the Heathrow Express (15 minutes from London Heathrow) and mainline trains coming into Paddington Station. There are four underground lines within one minute of the hotel along with several bus routes, and the hotel is a short stroll from Hyde Park.
For further information and secure online reservations at London's Best Connected Hotel please visit http://www.lth-hotels.com or call us on +44 (0)207 835 2000.
Quality Crown Hotel Paddington
144 Praed Street
Paddington
London W2 1HU.
###