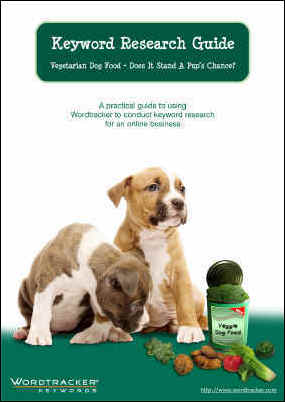 Vegetarian Dog Food - Does it Stand a Pup's Chance?
London, England (PRWEB) August 22, 2005
Websites that can't be found on search engines cost their owners thousands of dollars in lost business. Frequently, this is because they've been using the wrong keywords in their website copy.
Now, a practical keyword research guide from Wordtracker aims to help any kind of website find the right keywords and gain extra business as a result.
The guide, "Vegetarian Dog Food - Does it Stand a Pup's Chance?", features Susan Webster, CEO of a fictional company selling vegetarian dogfood online. She approaches nine leading search engine marketing experts to ask for help and their replies are published in the guide. The experts give invaluable insights into how any website can perform well on Google or any other search engine.
Mike Mindel, co-founder of Wordtracker, says: "The basis of search engine optimization is simple. Use jargon on your website and you'll get no traffic. Use the words people use when they're searching - keywords – and you'll get tons of traffic."
However, finding the best keywords is a real challenge. Search engine optimization can be a secretive business and successful companies are understandably reluctant to talk about the specifics of their work.
"As a result, there's a shortage of detailed case studies," said Mindel. "So we created a fictional but realistic scenario and gave search engine experts the opportunity to share their methods with ordinary people. The problems faced by our fictional CEO are the same problems website owners face everyday. The strategies and advice our experts have kindly provided can help website owners achieve a better return on investment."
The book features contributions from Bryan Eisenberg, BL Ochman, Kevin Lee, Stephen Mahaney, Ken McGaffin, John Alexander, Neil Davidson, Robin Good and Nick Usborne.
It is available for immediate download from Wordtracker.com.
About Wordtracker:
Wordtracker is the leading independent online keyword research service. It helps professional search engine optimization companies and website owners drive traffic through achieving better search engine rankings.
For further information, please contact:
Mike Mindel, Ken McGaffin
Tel: 01292 289974
Mob: 07712 899824
###