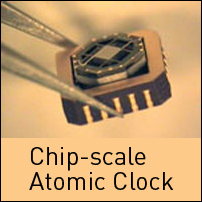 San Jose, CA (PRWEB) August 23, 2005
Symmetricom, Inc. (NASDAQ: SYMM), a worldwide leader in precise time and frequency products and services, today announced that it has been awarded funding for Phase-III of the Defense Advanced Research Projects Agency (DARPA) Chip Scale Atomic Clock (CSAC) program. The CSAC development will produce miniature, low power atomic clocks for precision timing applications in hand-held battery-powered instrumentation for use by military personnel.
Under the award, valued at $3.4 million, Symmetricom will develop miniature low power atomic clocks based on its proprietary coherent population trapping (CPT) atomic interrogation technology and microelectromechanical systems (MEMS) fabrication techniques. Symmetricom is teamed with The Charles Stark Draper Laboratory in Cambridge Massachusetts and Sandia National Laboratories in Albuquerque, New Mexico in the CSAC development. The CSAC work leverages Symmetricom's extensive expertise as the world's largest and most diverse producer of atomic clocks.
Tom Steipp, CEO of Symmetricom commented, "I am delighted to acknowledge the accomplishments of our technical team at Symmetricom. They have successfully met the DARPA milestones in Phase I and II and have now been selected to carry the CSAC development to completion. The size and power reductions will be critical elements to moving portable precision timing into the hands of US soldiers."
Atomic clocks provide enhanced accuracy, stability, and timing precision compared to quartz-based technologies. However, the size and power consumption of existing atomic clock technologies exceeds that of quartz-based clocks by several hundred-fold, which has heretofore prevented the deployment of atomic timing in portable applications. Existing miniature atomic clocks, for example, occupy a volume similar to a deck of playing cards and consume power comparable to a notebook computer. In Phase-II of the DARPA CSAC program, Symmetricom demonstrated a miniature atomic clock, ten times smaller and lower in power than any existing technology. In Phase-III, Symmetricom will further reduce the size and power by an additional tenfold. This work will reduce the size and power of the CSAC to a level comparable to low power quartz clocks while improving accuracy and stability by a factor of 10 to 100. The objectives are to reduce the CSAC to a size comparable to a sugar cube while operating on the power
of a AA battery.
Within the US Department of Defense (DoD), the use of miniature, low power precision timing references such as CSAC will enable a new generation of man-portable instrumentation for positioning, navigation, and communications. Ultra-stable frequency references will dramatically improve the bandwidth and reliability of secure military communications. In military Global Position System (GPS) receivers, stable time sources will enable robust acquisition and position determination in a jammed environment. Small, low power precision timing sources will also enhance munitions guidance, identification of friend or foe, as well as collection and dissemination of information on the battlefield.
For more information please visit: http://www.atomic-clock.symmttm.com.
About Symmetricom, Inc.
As a worldwide leader in precise time and frequency products and services, Symmetricom provides "Perfect Timing" to customers around the world, including communication service providers, network equipment manufacturers, U.S. Department of Defense (DOD), aerospace contractors, enterprises, governments and research facilities. Since 1985, the company's timing, frequency and synchronization solutions have helped define the world's standards, delivering precision, reliability and efficiency to wireless and wireline networks, instrumentation and testing applications and network time management. Deployed in more than 90 countries, instrumentation products include atomic clocks, cesium and rubidium standards, VME, VXI, crystal oscillators, Bus Timing, PCI cards and Global Positioning System (GPS) solutions for instrumentation applications, alphanumeric displays, as well as network time servers for Network Time Protocol (NTP) synchronization and time synchronization solutions. In 2002, Symmetricom acquired TrueTime and Datum, enhancing its position in the world time and frequency markets. Symmetricom is based in San Jose, Calif., with offices worldwide. For more information, visit http://www.symmetricom.com
Contacts:
Raychel Marcotte
BroadPR
617-645-6022
Jeanne Hopkins
Symmetricom
978-232-1487
# # #