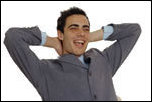 Day Trading offers significant advantages to traditional buy-and-hold investing, most notably the complete elimination of overnight news risk
Louisville, KY (PRWEB) August 24, 2005
Auto trading is a new and exciting investment vehicle that allows investors to have DaytradeTeam day trading alerts automatically executed in their online brokerage account. This helps active investors overcome the hurdles of order-entry and timing problems that have kept many away from day trading in the past.
"Day Trading offers significant advantages to traditional buy-and-hold investing, most notably the complete elimination of overnight news risk," said DaytradeTeam founder, Andy Swan. "And until now, day trading has also meant an extremely steep learning curve and intrusive time commitments."
Thanks to auto trading, those barriers to entry are no longer an issue for a growing number of DaytradeTeam members.
"Auto trading overcomes these two main obstacles by allowing the investor to essentially outsource the processes of market analysis and order entry to day trading experts," said Swan. "As a result, we have seen a remarkable rebound in overall interest in day trading in 2005--and we expect this trend to continue as awareness of auto trading spreads."
DaytradeTeam offers auto trading through thinkorswim brokers at no additional charge to its normal subscription rates.
For more information on auto trading, please visit http://www.daytradeteam.com/dtt/autotrading.asp
About DaytradeTeam:
DaytradeTeam has been providing stock and options trading alerts and education to active investors since 2000 and can be found at http://www.daytradeteam.com
Contact:
Andy Swan, Founder
DaytradeTeam
866.232.9872
# # #