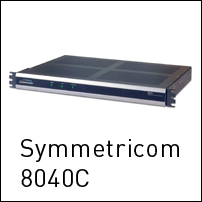 The new low phase noise option allows us to meet more stringent frequency reference applications
San Jose, CA (PRWEB) August 25, 2005
Symmetricom, Inc. (NASDAQ:SYMM), a worldwide leader in precise time and frequency products and services, today announced a product update to their 8040C Rubidium Frequency Standard, adding a new low phase noise option that provides a greater than 30 dB improvement in close in phase noise.
The Symmetricom 8040C provides a stable and accurate frequency reference with multiple output signal formats in an easy to install 1U rack mountable chassis. Unlike other units, the 8040C offers configurable RF outputs, GPS disciplining and a RS-232 interface for command and control. Designed around Symmetricom's award winning X72 rubidium oscillator, which is deployed worldwide as the reference oscillator in wireless base stations, the 8040C is field configurable, allowing the instrument to support changing functionality in evolving systems.
"The new low phase noise option allows us to meet more stringent frequency reference applications," commented Doug Lowrie, product manager at Symmetricom. "With this option, we are addressing the requirements of satellite ground station applications where frequency stability and low noise are critical parameters to track and communicate to satellites. Additionally, our solution provides flexible output options in a 1U rack mount package making the 8040C's cost per output the industry's lowest."
"Many of our customers, some of whom are leading government manufacturers, have relied on Symmetricom's 8040C Rubidium Frequency Standard for the generation and distribution of precision time and frequency signals," commented Gary Geil, president of Geil Corporation. "This unit can be synchronized to a primary reference and output a 1, 5 and 10 MHz low phase noise signal along with a corrected 1pps. Customers utilize these precision signals as the reference source in sophisticated automatic test equipment.
Pricing and Availability
The 8040C Rubidium Frequency Standard with the low phase noise option is available immediately for purchase. Domestic pricing begins at $4,265 USD.
For more information on the 8040C Rubidium Frequency Standard, visit http://www.rubidium.symmttm.com.
About Symmetricom Inc.
As a worldwide leader in precise time and frequency products and services, Symmetricom provides "Perfect Timing" to customers around the world, including communication service providers, network equipment manufacturers, US Department of Defense (DOD), aerospace contractors, enterprises, governments and research facilities. Since 1985, the company's timing, frequency and synchronization solutions have helped define the world's standards, delivering precision, reliability and efficiency to wireless and wireline networks, instrumentation and testing applications and network time management. Deployed in more than 90 countries, instrumentation products include atomic clocks, cesium and rubidium standards, VME, VXI, crystal oscillators, Bus Timing, PCI cards and Global Positioning System (GPS) solutions for instrumentation applications, alphanumeric displays, as well as network time servers for Network Time Protocol (NTP) synchronization and time synchronization solutions. In 2002, Symmetricom acquired TrueTime and Datum, enhancing its position in the world time and frequency markets. Symmetricom is based in San Jose, Calif., with offices worldwide. For more information, visit http://www.symmetricom.com
Contacts:
Raychel Marcotte
BroadPR
617-645-6022
raychel@broadpr.com
Jeanne Hopkins
Symmetricom
978-232-1487
jhopkins@symmetricom.com
# # #