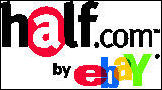 Students have plenty of pressure at college, from exams to living away from home and managing finances for the first time
San Jose, CA (PRWEB) August 24, 2005
With the cost of textbooks rising at double the rate of inflation¹, the findings of a recent survey by Half.com shouldn't be surprising: about 55% of college students this year will dip into savings to pay for textbooks. Moreover, students cite textbooks as a worrisome expense as they head back to school for fall semester.
Other findings from the survey include:
Almost half (45%) of college students are managing their finances for the first time
Forty-three percent of parents require their children to cover the costs that go beyond their college allowance
Close to 75% of students work either full- or part-time during the school year, yet nearly two-thirds (65%) still consider themselves to be "financially breaking even" or "flat broke"
Most (56%) students have avoided purchasing textbooks for their classes because they were too expensive. One in six students surveyed avoided taking or dropped a class because the textbooks were too expensive
Almost 70% of students say that they are responsible for paying for their textbooks
Nearly half (43%) of parents surveyed said their children are allowed to keep any money they save if they spend less than their college allowance
"Students have plenty of pressure at college, from exams to living away from home and managing finances for the first time," said Greg Fant, vice president and divisional merchandise manager, eBay and Half.com. "Our survey concluded that the cost of textbooks sometimes prevents students from buying them. No student should have to take a class without the necessary resources."
This national survey was conducted by Survey.com in August 2005. Five hundred college students between the ages 19- to 25 participated in the survey as well as 500 parents with children currently enrolled in college or graduate school. The margin of error was +/- 4.4% (95% confidence interval).
¹A study conducted by the General Accounting Office released on August 16, 2005 revealed that in the last two decades, college textbook prices have increased at twice the rate of inflation. Increasing at an average of 6 percent per year, textbook prices nearly tripled from December 1986 to December 2004, while inflation was at 74 percent.
About eBay:
Founded in 1995, eBay created a powerful platform for the sale of goods and services by a passionate community of individuals and businesses. On any given day, there are millions of items across thousands of categories for sale on eBay. eBay enables trade on a local, national and international basis with customized sites in markets around the world. Through an array of services, such as its payment solution provider PayPal, eBay is enabling global e-commerce for an ever-growing online community.
Media Contact:
For more information about Half.com or the survey results, please contact Lauren Baum at 212-221-1713, ext. 324 or laurenb@kaplowpr.com.
# # #