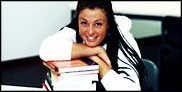 Victoria, BC (PRWEB) August 26, 2005
More college students than ever before will purchase their textbooks online during the current back-to-school season, so Abebooks.com – the world's largest online marketplace for new and used books – has prepared a series of helpful tips for college-bound buyers.
• Buy early – plan ahead and avoid buying just before classes begin because prices rise when supplies run low;
• Buy used textbooks – secondhand textbooks offer the largest savings by far and it is not hard to find significant savings of $50 or more on list prices;
• Consider older editions of your desired textbook for massive savings on list prices – if there have been no major updates to your subject, an older edition will be fine;
• Use the ISBN for rapid searching. Every book published since 1970 has an 'International Standard Book Number' (a 10-digit unique number) and searches by ISBN locate the exact book and disregards titles with similar names;
• Look for the growing number of independent booksellers offering free shipping;
• Look for a bookseller in your local area - the book will arrive quicker and shipping will be cheaper;
• If you must buy a new textbook, shop around – the most well-known websites are not always the cheapest;
• Sell your textbooks back through the Abebooks.com buyback program on its 'Textbook Central' section. Remember – don't write on your textbook and help keep its value.
And remember by buying used textbooks you will help drive down the prices of new textbooks for future generations of students.
About Abebooks.com
Abebooks.com is the world's largest online marketplace for books, with over 70 million new, used, rare, and out-of-print titles listed for sale by more than 13,000 independent booksellers from around the world. Abebooks has millions of registered customers who collectively purchase more than 25,000 books a day from its 5 global websites (Abebooks.com, Abebooks.co.uk, Abebooks.de, Abebooks.fr and Iberlibro.com). A true internet success story, Abebooks.com has been selling books online since 1996, and is a private company based in Victoria, BC Canada, with offices in Germany and Spain.
# # #