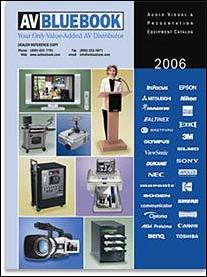 Because this is not an e-commerce store, resellers can set their own prices
Cambridgeport, VT (PRWEB) August 30, 2005
AV Bluebook, America's only value-added national distributor of audio-visual, multimedia and presentation products, announced today that enrollment is now open for their 2006 audio visual equipment catalog and all new reseller website.
"For 30 years we have helped resellers with a unique turn-key program that allows them increased sales without any inventory investment or risk," said AV Bluebook President Bob Singleton, Sr. "Now we are taking the success of that program one step further by offering a customizable AV Bluebook website to resellers that puts our full audio visual equipment catalog online, making it available to their customers 24/7."
The 2006 AV Bluebook Catalog allows resellers to put their own name on a FULL-COLOR, 192 page catalog featuring over 2500 name-brand equipment, supplies and accessories that are proven sellers in the Education, Corporate, Government and Health Care markets. This enables resellers to leverage their name recognition by providing their clients with a customized catalog offering a complete line of audio-visual, video and presentation technology products.
Interested reseller take advantage of the online catalog at the new website, which gives the most up-to-date specifications and models, and displays list price for all products. The AV Bluebook website can be customized and linked from the reseller's existing website, providing customers a full audio visual equipment catalog with 5,000+ products and easy online access.
"Because this is not an e-commerce store, resellers can set their own prices," noted AV Bluebook Sales Supervisor Michelle Mack. "Based on client feedback, we designed the site so only the list price will be displayed to your customers. Using site search tools and the latest specs, customers can easily locate the products they are interested in, and contact their reseller to check pricing, request price quotes, and order merchandise."
For 30 years, AV Bluebook's professional sales and support team has provided solutions for the resellers' needs. For more information or to request a sample copy of the AV Bluebook catalog, visit http://www.avbluebook.com or call 800.631.7791.
# # #